What Is Townhouse: All You Need To Know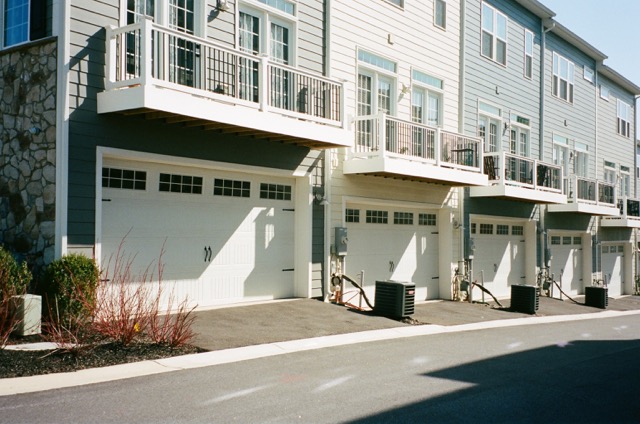 If you are considering buying a townhouse, you are at the right place. This guide will explain all you need to know about this house type. Answering, "what is a townhouse," the first thing to note is that its name is confusing among other types of homes. For example, it provides little context to the actual meanings. After all, logically, any house in a town can be a townhouse. However, this term means a multistory house that shares one or two walls with the neighbors.
The popularity of townhouses saw many roller coaster rides. Once they were trendy, then their popularity declined. Yet, contrary to what many people were thinking, their popularity is growing again. There are many reasons for this popularity revival. Their easier maintenance, amenities, and better value make them a great choice. Let us explore it in detail.
What Is a Townhouse?
Let us first answer what type of a home a townhouse is. It is a home with multiple floors that shares one or both side walls with its neighbors. Usually, builders build them in blocks instead of individual units—all houses of a block look-alike from the outside. Although real estate terms sometimes shift rapidly, townhouses and townhomes mean the same thing.
A townhouse is an individually owned unit with its entrance and outdoor space. A homeowners association (HOA) develops and maintains them. Sometimes, it might not be part of an HOA. However, mostly it is. When it is under the governance of an HOA, you are subject to rules and monthly fees. For example, HOA will determine what you are permitted to do with the house's exterior. Monthly payments depend on available amenities, but they can vary between $100 and $1,000. Thus considering monthly fees before buying such a house is a critical step.
A townhouse is not a new phenomenon. It originated in Europe in the seventeenth century. Although they initially mushroomed only in cities, now you can find them virtually everywhere. They are more prevalent in urban and suburban areas. One key difference between initial and today's townhouses is the careful utilization of space. Thus modern ones are always multistory and have no distance between adjacent homes. This setup makes it economical in populated areas where land is crucial.
Despite attached neighbor houses, society rules, and monthly fees, townhouses are very popular today. The reason might be their affordability, location, and amenities.
What Does A Townhouse Look Like?
You can spot a townhouse lined up in blocks with others in dense urban and suburban areas. They are two or three stories tall and look alike from the outside. Each house shares two walls with adjacent units. However, the corner house shares only one side. They resemble traditional individual detached homes. However, their operating terms are closer to condominiums. Many have front and back yards, while others have private parking. HOA regulates and maintains the amenities of these houses. Thus, they look more like a society than individual houses.
Pros And Cons Of Buying A Townhouse 
Like all types of real estate ownership, buying a townhouse has pros and cons. However, these pros and cons are not absolute and may differ according to HOA rules and areas. Comparing these points, you can judge their suitability for your lifestyle.
Pros Of Living In A Townhouse
Availability Of Mortgage Financing. Almost all mortgage options for standalone homes are also available for townhouses. You need the same steps to perform, and home loans of the same type are open to you. It makes financing a townhome easier. For example, FHA, USDA, and VA loans are available.
Availability Of Many Amenities. Unlike other types of homes, you can enjoy many amenities of a modern lifestyle in a townhouse. Usually, amenities like a clubhouse, gym, pool, and security are available. Yet the quality and quantity of available amenities can vary according to cost and area.
Much Cheaper Than Traditional Homes. For the same locality and features, a townhouse is cheaper than a single-family home. Of course, you will pay less, but you won't give up many features.
Ease Of Maintenance. A townhouse is easier to maintain for several reasons. First, cleaning and maintaining shared areas and outside of your home is the duty of the HOA. Secondly, as you have less space, you can easily keep it well-maintained.
Outdoor Space. Unlike an apartment, townhouses have a small private open space available. You can use it as a lawn. Moreover, you may own a private garage in some areas.
Cons Of Living In A Townhouse 
Possible Restrictions. There may be many restrictions if the home is part of an HOA. Even in some localities, you can not change the color of the walls or the front door. You cannot update everything according to your liking. While it gives the whole community a uniform look, it may be too limiting for some people.
Higher Maintenance Fees. HOA will charge fees to maintain shared amenities outside of your home. These fees range from $100 to $1,000, so you must allocate funds. This bill has occasional hikes due to the hefty repair of the swimming pool, etc.
Possible Resale Value Issues. Resale value depends upon new units available vs. eager buyers. Thus, if they constantly add new houses in your area, the value of your property may not increase.
Privacy And Noise Issues. As homes are attached, you may hear noise from your neighbors. Similarly, you can not talk loudly near walls for fear of privacy breach. You may also hear traffic noise if it is a high-traffic area.
Accessibility Challenge. It is not comfortable for everyone to climb stairs. As these homes are vertical, your home space is sliced into two or three pieces if you also have a basement. It is mainly a challenge for old, ill, or disabled people.
What Is The Difference Between A Condo And A Townhouse?
While joining a townhouse vs. condo debate, we find many interesting similarities and differences. Let us start the talk with the similarities. First, both have one or two joint walls with neighboring properties. Second, some form of HOA controls both properties. Third, both are individually owned homes. Finally, both have shared community amenities.
Ownership: A townhouse is a residence style, while condos are a form of ownership. Thus a house that looks like a single-family home can be a condo if the owner does not own the land.
Maintenance: Like single-family homes, townhome owners maintain the interior and exterior of their homes. However, the condo association takes care of the exterior, and the owners are only responsible for the interior.
Pricing: Condominiums are cheaper than townhouses, which are more affordable than single-family homes.
Investment: Townhouses are better because you own the land, and their value is appreciated faster than condos.
HOA Fees: Condos fees are higher because they have more shared areas and amenities to maintain.
Security: Condos have security systems and secured entrances; in townhouses, every owner has to install their security system or live without it.
Privacy: A common wall in the living room can be a challenge in a townhouse. On the other hand, a condo can be a bit noisy if neighbors don't care, but it is generally a more private space.
Lifestyle: You can walk outside your front door to the road. While in the condo, you must go through the hallway to the elevator and the main gate. You may have a front and back yard in townhouses.
How To Buy A Townhouse?
Buying a townhouse is not difficult if you plan your mission well. Read our step-by-step procedure to know the process better.
Step 1: Evaluate Your Budget 
As with any purchase, the first step is to know how much you can spend. Townhouses are cheaper than many other types of homes. However, you may need a mortgage to fund the purchase.
For other home loans, you will consider only monthly mortgage payments. However, with a townhouse, you must also consider the HOA fees and homeowners insurance payment. These monthly payments can stretch your budget. Also, HOA fees may increase in the future.
Know the current amount of these payments. Next, make an expected payment plan for the next two to five years. These estimates will give you an idea about your financial commitments. Then get yourself ready for this before diving further.
Step 2: Clarify What You Want 
Most people know how many bedrooms or types of furniture they want. However, these are internal features of a home. A townhome is also about a community. There might be extra features, payments, and duties in that community. Some communities are very restrictive, and some are less. Are you ready for that?
Thus you will need two lists of features. First, write what you want inside your 4-wall boundary. Second, enlist what you wish to have outside of your house and in the community. Make a list of features in a "must have," "good to have," or "don't care'' style. Consider parking slots, lawn maintenance, community pool, monthly fees, neighbor noise, restrictions, obligations, etc.
You will be paying for many amenities available to you. If you are paying for them, you should know what quality you will get. Make a list of all facilities and restrictions to decide better.
Step 3: Compare Loan Options And Get Pre Approved 
Most people buy a new house on a mortgage. You should shop for the best options if you need a mortgage. Compare mortgage lenders in terms of down payment, loan amount, other conditions, etc.
Then it is a good idea to get pre-approved. Of course, the pre-approval process will require all kinds of financial documentation. However, at the end of the process, you will know your financial status and how much loan you can expect.
Knowing your financial limits, you can hunt for your dream townhouse. First, search for a home that suits your needs and is affordable. Then, it is also necessary to verify the neighborhood and communicate with the seller. Finally, you can show your pre-approval status to the seller. Sellers prefer pre-approved buyers as they are more sure that the deal will close. So it will help in moving ahead faster.
Step 4: Find Your Dream Townhouse And Close The Deal 
After searching for your dream townhome and verifying the neighborhood, it is time to make an offer. As you are already pre-approved, you can make a solid, affordable offer. You may need the help of your lawyer or real estate agent for this step. The seller will evaluate your proposal. If they accept, you can apply for the loan.
Once the lender approves the loan, you can start the closing process. It again involves documentation, legal procedure, etc. Then you have to pay the closing costs if any. Finally, you will get the keys, original documents, etc. Now, you can move into your new home for a great living.
The Bottom Line: What Is A Townhouse
Now that you know "what is a townhouse" and how it differs from other options, you can decide whether it is best for you. Owning it is best for first-time buyers or people on a budget. However, it is not about a house but a lifestyle. Of course, you sacrifice a bit of privacy. Yet, it will be comfortable in a well-planned community and friendly neighbors. 


People dislike a townhouse mainly for high restrictions or high fees. Because it is a community lifestyle, everyone should follow the rules. Rules and ethics can make it a great neighborhood. Management needs regulations to force people to follow the rules. Similarly, to keep shared amenities in great shape, they need fees. If the balance is imperfect, it might become too restrictive and costly. You should consider other options if you need more space, privacy, or lower monthly fees. If you have any questions, feel free to contact us.
Frequently Asked Questions(FAQs) About Townhouses
As townhouses are becoming popular again, we get many questions, from "What is a townhouse" to "Are they a good buy." Read our top FAQs about townhouses to learn more.