What is Commercial Real Estate (CRE)? An Investment Guide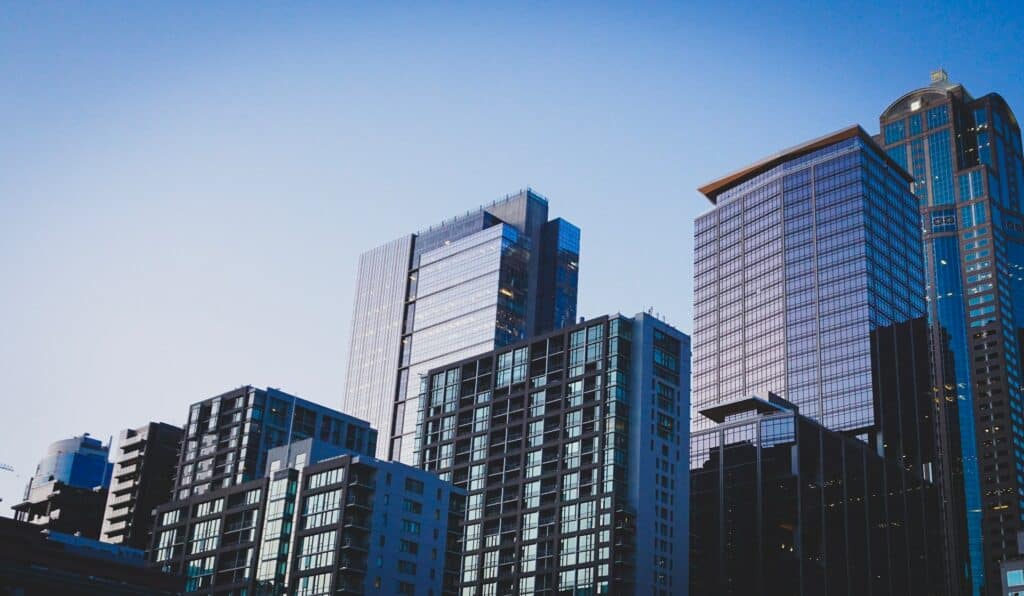 Commercial real estate is, for the most part, what we all experience daily. It's where we work, it's where we shop, and it's where we do most of our business. It's also a topic that many people are either completely unaware of or don't really understand. This can lead to confusion, especially when renting office space or shopping for commercial properties (i.e., self-storage units).
To help eliminate any confusion regarding commercial real estate, let's look at what this type of property entails and how you can invest in it.
Commercial real estate (CRE) will cover anything "real estate" involved in commercial activity. Let's say you buy a small shop and rent it; you're now a commercial real estate investor. Commercial real estate activities revolve around apartment buildings, condos, shopping malls, and sports complexes. Land developers and office space providers are considered commercial investors.
So CRE is a real estate term describing investments for business purposes like an office building. You might use the office building (personally), but it's for commercial transactions. It's essential to estimate the value of an investment venture before you take the plunge. Commercial RE transactions have higher costs and better ROI than residential real estate.
Basics of Commercial Real Estate
CRE and RRE and two aspects of the same industry. Residential units are for personal use, whereas commercial real estate is reserved for economic purposes. The barrier to entry is high here. Individuals often begin by investing in multifamily or single-family rental homes. So a residential unit will be considered "commercial real estate" for the landlord.
The retail sector includes resorts, spas, gyms, restaurants, and hotels. Basically, commercial real estate is divided into three classes:
Class A assets are new modern real estate assets offering competitive and highest ROI. These are buildings built according to modern infrastructure and amenities.
Class B represents fixer-uppers: assets requiring maintenance to produce better ROI. Most class B assets are less than 20 years of age.
Class C assets are located in old towns/communities over 20 years old. Because of their age, these assets require significant maintenance and updates. Class A assets are the best for profit generation, but eventually, over time, all purchases require development and maintenance.
We can further classify the assets by the nature of business operations (like the production of heavy goods). Still, for investment purposes, classes A, B, and C are used to gauge profitability.
Who Rents Commercial Real Estate?
All kinds of organizations rent commercial real estate. Purchasing commercial property blocks the cash flow and limits the financial options. That's the reason non-profit and govt. organizations often buy buildings, but private investors choose leased facilities. Commercial leases differ from residential ones because they are expensive and cover several years. It's not uncommon to have a commercial property lease for 10-20 years. Unlike homes, commercial properties are hard to find. Larger projects have lengthy lease periods to lock in better prices and locations. That benefits both the investor and the tenant. Tenants don't have to buy or lease properties frequently and customize them according to their brand requirements. Landlords don't have to deal with high vacancy rates.
There are usually four types of commercial leases:
Single-net: Along with the rent, the tenant must also pay taxes.
Double-net (NN): As a tenant, you will pay for rent, taxes, and insurance.
Triple-net (NNN): You're responsible for paying property taxes, insurance, and maintenance charges.
Gross Lease: You will just pay the rent, and the landlord will handle expenses related to property taxes, insurance, and maintenance.
Who Owns Commercial Real Estate?
Owning commercial real estate isn't very simple. Commercial real estate investments run in millions, if not billions, of dollars. Usually, it's not practical for individual investors to own commercial real estate, so trusts and corporations handle such assets. As a result, you'll see a group of investors coming together and forming a board to manage CRE activities.
In contrast, individual rental properties are owned mainly by a single person. So the ownership depends on the project's scale, complexity, and attraction. Moreover, since most attractive CRE projects are located in dense urban areas, they have high price tags, which drive the price.
Types of Commercial Real Estate
Corporate enterprises, government organizations, and businesses of all scale need workspace typically referred to as office space. Office space comes with all kinds of prices and options, including these classes:
Class A: Top-of-line amenities, desired location, modern infrastructure, and latest facilities define this commercial real estate piece. Class A office space assets are the best, considering luxury and construction. These are new constructions with the best locations and provide competitive ROI.
Class B: This class provides reasonably good enough construction but not state-of-the-art facilities. The building is in good condition, but the wow factor is missing.
Class C: This office space is provided in low-demand locations. These buildings lack the finishing and amenities that top corporations in the country require. Regarding construction date, these are the oldest buildings requiring a remodel. Considering costs, these are inexpensive to acquire and provide moderate to low returns.
Retail
That's the most common type of commercial real estate. Retail CRE investment options include:
Casinos
Beauty salons and spas
Hotels and resorts
Restaurants, eateries, and entertainment areas
Shopping malls and shops
Clothing boutiques
Any other piece of real estate where you spend money for services or goods.
Industrial Use
Commercial properties used for manufacturing goods are considered industrial-use properties. Oil refineries, factories, warehouses, and storage faculties are all commercial properties with a unique use. Industrial CRE is the most regulated real estate structure, as you cannot build a factory just anywhere. Zoning laws will define limits and accessibility. Govt. regulations and restrictions make it difficult to invest in commercial real estate. Industrial use properties occupy large spaces and are located in allocated regions.
Multifamily Units
Multifamily real estate is a double-edged sword as it acts both as residential property and commercial real estate. It includes apartment buildings, condos, rowhouses, duplexes, and triplexes. The number of units is the distinguishing factor between commercial and multifamily properties. Any property above five units is considered commercial and not multifamily. And that's why zoning laws allocate land for these two housing types. Again that's the reason many apartment buildings are located close by.
How Can You Invest in Commercial Real Estate? (directly)
For direct investments, you need to have direct knowledge of commercial real estate or a firm to manage assets on your behalf. CRE investments require a heavy amount of capital, and these are high-risk investments. The potential for reward is high, but so is the risk, and you have to be careful. Perhaps the most common direct CRE investment is becoming a landlord. You rent out the property and enjoy an increase in equity plus monthly rental income. The idea is to find commercial properties in a low-supply, high-demand area. Demand drives rental rates and increases property prices, making it challenging to finance. Employment rates will affect your investment as commercial real estate is directly tied to economic growth.
In direct investment, you'll own and manage a property on your own. Hire an agent/attorney to research, find, and buy a property. You must have a portfolio to finance your purchase or find a commercial real estate lender. You can also invest indirectly through market securities like REITs.
The Bottom Line: Commercial Real Estate
So what is commercial real estate? It's any property where services or goods are manufactured or provided to the end user. Commercial real estate (CRE) offers high leasing rates and stable cash flow. Industrial real estate produces low interest-rate, but you'll face less hassle, competition, and maintenance charges. Long-term contracts are common in the CRE sector. As a result, you can predict long-term cash flow and occupancy rates. There is also a chance for capital appreciation (increase in equity) if the property is well-maintained. Some commercial RE investments are also recession-proof, especially if the government and non-profit organizations are your tenants. 
Because of laws and the cost involved, commercial properties are not abundant in supply. That's why it's both difficult to finance and find such properties. It's also challenging to sell property because of the limited capacity for buyers to finance.