How Much Does It Cost To Build A House?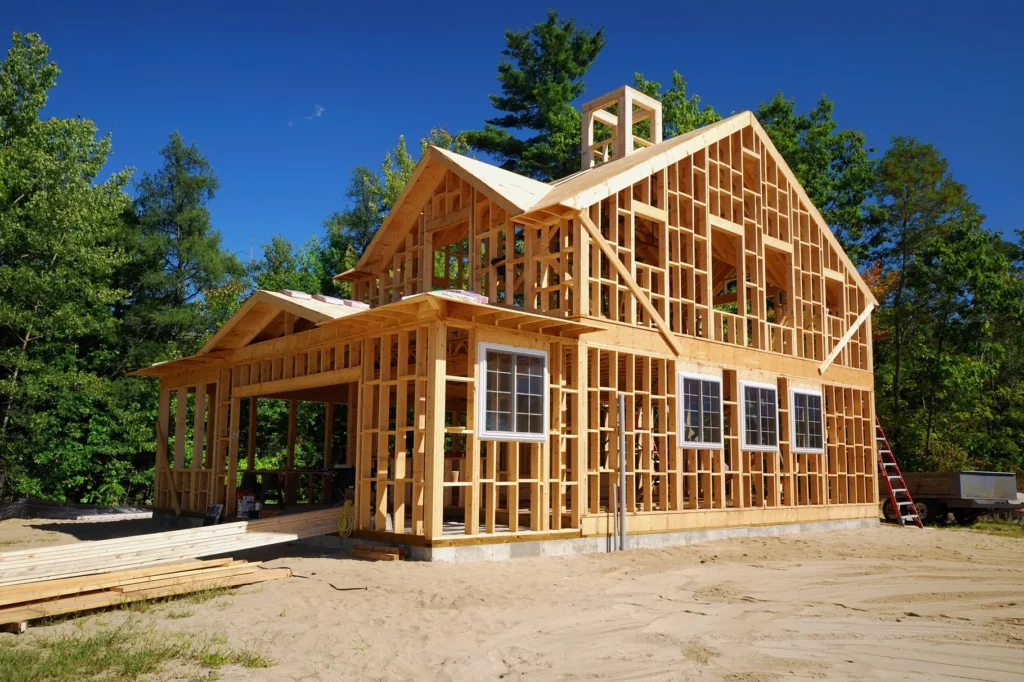 Building a home is a dream for almost everyone. That's because a home is where the heart is and it's where life's most memorable time is spent. But living in a brand new home is not within everyones reach. It comes with high-end pricing. So what does an average house cost and are you able to afford it? This article shares everything you need to know about the cost to build a house.
Average Cost To Build A House
The average cost to build a house excluding the cost of land is $300,000. But the exact cost depends on your taste, location, and demand for materials and labor. There are contingency funds that you can consider to pay for unexpected upgrades and additional costs during construction.
Cost Per Square Foot To Build A House
The average American family of 3 to 4 people can live comfortably in a house built over 2,000 square feet. Average new house construction costs are about $150 per square foot whereas custom, and luxury costs to build a house and the cost of a mobile home depends merely on how much a person can afford.
Cost To Build A House By Square Footage
The potential cost to build a house per square foot is shared below:
| | |
| --- | --- |
| Type of Cost | Amount |
| Average Cost | $150 |
| Highest Cost | $500 |
| Lowest Cost | $100 |
*Costs per square foot
Cost To Build A House By State
The cost of building a home also depends on its location. This means that it varies from one state to another. If the cost of living is higher in some states you would also need to pay more for home construction, land, and building material. Here is a state-by-state average cost of building a 2000 square foot home:
| | |
| --- | --- |
| State | Cost to Build a House |
| Alabama | $268,000 |
| Alaska | $421,000 |
| Arizona | $296,000 |
| Arkansas | $252,000 |
| California | $405,000 |
| Colorado | $299,000 |
| Connecticut | $345,000 |
| Delaware | $327,000 |
| Florida | $264,000 |
| Georgia | $274,000 |
| Hawaii | $413,000 |
| Idaho | $316,000 |
| Illinois | $265,000 |
| Indiana | $219,000 |
| Iowa | $214,000 |
| Kansas | $207,000 |
| Kentucky | $281,000 |
| Louisiana | $270,000 |
| Maine | $282,000 |
| Maryland | $294,000 |
| Massachusetts | $351,000 |
| Michigan | $217,000 |
| Minnesota | $237,000 |
| Mississippi | $255,000 |
| Missouri | $227,000 |
| Montana | $299,000 |
| Nebraska | $211,000 |
| Nevada | $334,000 |
| New Hampshire | $300,000 |
| New Jersey | $377,000 |
| New Mexico | $291,000 |
| New York | $360,000 |
| North Carolina | $302,000 |
| North Dakota | $213,000 |
| Ohio | $222,000 |
| Oklahoma | $261,000 |
| Oregon | $341,000 |
| Pennsylvania | $302,000 |
| Rhode Island | $338,000 |
| South Carolina | $302,000 |
| South Dakota | $204,000 |
| Tennessee | $262,000 |
| Texas | $264,000 |
| Utah | $289,000 |
| Vermont | $308,000 |
| Virginia | $310,000 |
| Washington | $343,000 |
| West Virginia | $301,000 |
| Wisconsin | $239,000 |
| Wyoming | $290,000 |
Building Cost Estimator
Your home building expenses heavily depend on material costs and labor according to supply and demand in your area. It is always better to get quotes from local building and construction companies to help you determine the costs.
Average Cost To Build A House: Breaking It Down 
Here is a general breakdown of the cost to build a new home:
Construction Phase Average Cost
Pre-construction: $18,000
Foundation and framing: $87,000
Exterior: $42,000
Home systems (electrical, HVAC, plumbing): $40,000-$45,000
Interior: $75,000
Outdoor (driveway, landscaping): $20,000
Labor: $40 to $80 per square foot
Land: $90,000
Source: National Association of Homebuilders
Buying Land
This is an obvious first step when it comes to building a home. You need land for your home. Use a real estate agent to help you find vacant land for sale in a good neighborhood. A real estate agent will help you hunt down a deal on the perfect location for building a house. They can also help you sell your house faster and be a valuable resource if you are planning on investing in real estate. A good agent always knows where to find the right land at the right price for you to build your dream home.
Drawing Plans, Developing Layout And Getting Permits
Building a home requires proper planning. This includes drawings of the layout and design. Hire an architect or a draftsperson to get the building plans done properly and professionally.
An architect can help you achieve a custom and unique look. However, they usually charge around $15,000 whereas a home builder or a draftsperson would likely cost only $4,000.
In the case of an architect, make sure the builder and architect work together, or else the architect may draw something that is very expensive to construct.
After the plan drawings are done, you need to get the inspections and permits done so that the builder can start the construction work.
The maximum cost of obtaining a permit is usually around $5,000. Inspection is done for plumbing and sewer and costs around $4,000. Last but not the least, the cost to build a house also includes a government amount known as an impact fee to pay for roads, water treatments, and parks in your neighborhood. The charges are usually around $4,000 depending on where you live. Don't forget to keep a cushion of $1,000 to cover any unexpected costs.
Foundation And Framing
Foundation and framing are all about your home's structure. The cost to build a house is significantly impacted by the cost of foundation and framing.
On average you will need to spend $87,000 for framing and foundation.
Exterior Cost
Once the house foundation and framing are all set, you will need to work on the home exterior. This includes items such as siding, roof, windows, and doors. The exterior cost to build a new home is about $42,000.
Interior Cost
The interior of a home includes items like insulation, cabinets, drywall, and flooring. It is one of the most difficult and expensive parts of a project. Although the interior cost depends on your buying power and decisions, the interior cost to build a new home is usually around $75,000.
Labor
Labor is another main cost that you need to cover when building a home. The final price depends on the work volume but according to HomeAdvisor, the labor is usually around 40% of the cost to build a new home.
Laborers generally include roofers, electricians, flooring specialists, plumbers, and more. According to a 2020 NAHB survey, 11 to 30 subcontractors are needed to build the average new single-family home. It requires around 24 different subcontractors per home.
Home systems
Home requires infrastructure and water and electricity come under the most critical of all the home systems. As a homeowner, you will likely need to spend $40,000 to $45,000 on the installation of these systems.
Outdoor
The outdoors usually includes a patio or a deck as well as some landscaping. These features can add to your overall home building cost. On average homeowners spend $20,000 on their homes' outdoor features.
The Bottom Line: How much does it cost to build a house
Home building is expensive. To save the cost of materials to build a house, it's better to research for multiple quotes. Consult with different real estate agents, architects, designers, and builders to get an average cost to build a house.  However, don't choose the least expensive option as that may leave you with a poorly designed or built home, requiring emergency repairs on a regular basis, thus reducing your entire home value.


You can also do some of the work on your own. For instance, you can do interior finishing on your own instead of opting for an interior designer. This will help you save money. However, you would also need to invest proper time as you would need to pick everything on your own from flooring and paint to countertops. Good luck!