How to Find a Real Estate Agent?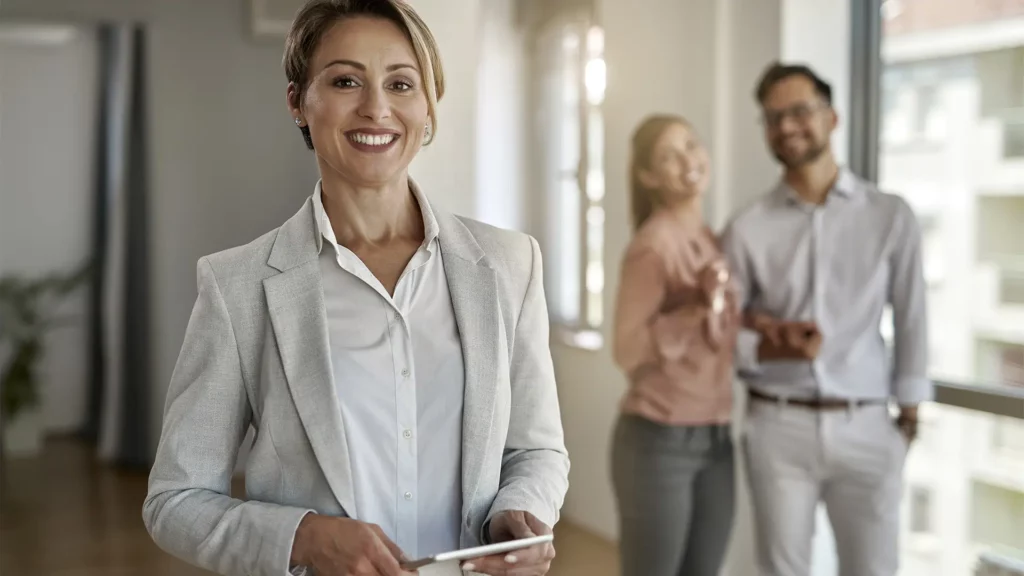 What's it like to search for a real estate agent? You want to sell your home. Maybe you want to buy one. One thing is clear: finding a real estate agent is more challenging than finding a car dealer. That's because your house is more valuable than your car. And properties are different. Unlike cars, you can't compare apples to apples.
This guide will help you find a suitable real estate agent when buying or selling a home.
We will examine the job of a real estate agent.
We will differentiate between a realtor, a broker, and a real estate agent.
We will discuss how to find the best agent in your area.
You will see tips about shortlisting and interviewing agents to find the best. Let us explore these topics one by one.
What Does A Real Estate Agent Do?
A real estate agent connects buyers and sellers. You may think searching for homes online is enough. You can connect with homeowners and come up with a deal. Or you can search for homebuyers using online advertising—however, it's a bit more complicated.
Professional real estate agents educate clients and help them through every transaction phase. For example, you will work with your agent to determine the price of a house—negotiate prices—or to complete legal paperwork.
A real estate agent's typical day includes office work, property documentation, and advertising. They spend time in meetings, scheduling visits and inspections. Realtors charge a commission for their services, usually 5%-6% of the sales price, but that's split between the buyer and seller's agent. Some of that commission goes to the brokerage firm, as most agents are associated with one. Agents provide similar commission-based services if you're searching for tenants or rental properties.
What Is The Difference Between Realtor And Real Estate Agent?
People often confuse the term realtor with a real estate agent. So, before you choose a real estate agent, you need to know the difference.
Real estate agents have a state license to help people buy, sell, and rent properties. Real estate agents cannot work independently and are associated with a brokerage firm.
On the other hand, a realtor is a NAR member (National Association of Realtors). Realtors are licensed agents, but they must follow a code of ethics set by the association. So being a member, they must abide by the rules and regulations of NAR. For example, A realtor should be free of bankruptcy and official sanctions. They should have an active license and be engaged in real estate. Consumers can report to the local NAR if a realtor does not fulfill the requirements.
What Is The Difference Between A Real Estate Agent And A Broker?
A broker is a licensed agent who can establish a real estate firm. In that sense, a broker can work independently and hire other realtors.
Is it better to hire a real estate agent or broker? That's a common question.
Brokers don't have to share their commission with their agency. Some brokers have a streamlined marketing approach to finding and selling properties. That's why working with a broker is better. However, most brokers are busy with several clients, so you may not receive personalized service.
How To Find A Real Estate Agent?
There are many ways to find a real estate agent. Let's explore them.
How To Find A Real Estate Agent If You Are Buying?
If you are buying a house, you need a real estate agent to assist you or work on your behalf. A buyer's real estate agent specializes in purchasing activities. They can send you a list of available homes and schedule home visits. In addition, they can submit your offers and refer appraisers to assist you.
Some real estate agents work for both buying and selling. For example, they might have listed a home you want. However, many only specialize in buying or selling due to broker limits or personal preferences.
You can search the NAR member's database to find a buyer's agent. Their location-specific research can guide you in this regard. In addition, real estate agents have connections in the local industry. For example, you can ask for a referral if you work with a contractor, home inspector, or mortgage lender.
How To Find A Real Estate Agent If You Are Selling?
You must find an agent with marketing experience and local connections to sell a property. A real estate agent can help you to prepare your home for sale and do proper marketing. In addition, a professional real estate agent will provide you with a competitive market analysis. That'll be your first interaction with the agent. Before signing a contract, your agent wants to know about your property. Next, you and your agent must agree on the pricing and timeline.
That's why it's best to request a CMA before you finalize the contract. After getting the CMA, you will know about the agent's experience, especially in the local market. You will read about comparable properties and the possible price you can get for your home. Your agent will guide you about the average days on the market. You can expect your home to sell for the average DOM after listing.
Go over the details, and you can start working together once you are satisfied. So back to the question, how do you find an agent?
There are mainly four ways to find an experienced real estate agent for selling:
Look for industry-specific databases.
Ask for agent matching services.
Visit local realtors in person.
Ask friends and familiar for referrals
You don't have to pay anyone for all of these options.
Step By Step Guide To Finding A Real Estate Agent
Before finding a real estate agent, you need to get ready. Here is what you can do:
Step 1: Get Preapproved For A Mortgage
If you want to buy a house, you need money. Most people buy a house through a mortgage, so you have to find one. It can take up to 90 days to get a mortgage pre-approval. However, arranging a mortgage after finding a real estate agent will waste time. Thus it would be best if you got pre-approved as the first step on your own. Pre-approval will also help you narrow down pricing options.
To get pre-approved, you will submit an application. Your lender will do a credit check, and if you qualify and agree with loan terms, you might get approved.
Step 2: How To Use Agent Matching Services To Find A Real Estate Agent
You can use agent matching services to find a real estate agent in your area. Think of it as a database of pre-screened agents. The best part is that these services are free. In just a few hours, you can connect with expert local agents who have experience buying/selling similar properties. At RealAdvisor, we can help you connect with a qualified agent.
Step 3: Get Referrals From Friends And Family To Find A Real Estate Agent
Friends and family can help while searching for a real estate agent.
There might be two issues in asking your friends and family in this regard. The first is that many other family members might know you are selling or buying a property. It can be a problem if you do not want to disclose this information now. Second, If some of your friends or family members are realtors, it may or may not be a good idea to hire them. Still, you can ask other members of your social network about that person before going further.
However, you should know the difference between seller and buyer agents. Both are real estate agents, but their interests are opposite. They represent different parties. So while getting help from your social network, ask for sellers if you want to sell and vice versa.
Step 4: Research For The Potential Candidates
Google local search can be the best way to find local realtors in your area. For example, if you search for the keyword "best real estate agent" or the "best selling experience in (city)," you might find Google local search listings. These are professionals or businesses with a local map presence on Google. In addition, the search results often have reviews you can check to find your agent.
Now it's time to create your list. If you are planning to work with a brokerage firm, check:
BBB rating
Local reviews on Google
Social media reviews and presence
Verify credentials through the local NAR or other associations
And if you want to work with an agent:
See if they are associated with a firm and check the firm reviews
Review their social media accounts and client testimonials
Check how they handle negative feedback or complaint from the clients
Verify the license through the local associations
Step 5: Interview At Least Four Real Estate Agents
Once you have a short list of agents, you need to interview them to find the best one. Finding the best person is easy if you follow a logical approach. Ask them questions like:
How many properties do you deal with per year?
What is your method to help me in the deal?
Why should you hire them and not someone else?
Ask questions about the property you want to buy or sell
What is the signup procedure for any contract?
What is your duration of working as a professional agent?
What do you charge, and at what stage?
Can you provide me with some references from previous clients?
You don't have to ask the complete list of questions. Once they don't answer a question correctly, you may know it is time to move on. For example, if they have worked for many years and cannot provide references, it is a big NO for moving further.
Finding a Real Estate Agent: Tips for Sellers
During the interview process, you can ask these questions. You want to know about the common obstacles, current market trends, advertising process, fair market value, and renovation projects. It pays to ask about the marketing strategy to ensure that your realtor will provide that.
What are the comparable homes in my area?
What challenges will I face along the road?
How much can I expect to receive for my property?
How will you market my home?
Which home improvements bring the highest ROI in current market conditions?
What do you need from me?
Finding a Real Estate Agent: Tips for Buyers
You have different criteria when searching for homes. You don't want to pay too much, and you don't want to waste time looking at non-suitable properties. So you want to work with an agent who can help you find the right home at the right price. Good interview questions can be:
How do you determine the competitive price to offer for a property?
What's your negotiation strategy?
How will you find homes that fit my preference and price range?
How can you help me avoid common problems?
Step 6: Request References From The Short Listed Real Estate Agents
Requesting references and checking them might be crucial in selecting the best real estate agent. Call those people and ask about the services they got and how satisfied they are. How much time did it take? Will they hire this agent again, or can they refer someone else? Talking to 3-4 persons will help you finalize your decision.
Step 7: Choose The Real Estate Agent You Like The Most
Having all this data in your hand and verification can guide you in choosing the best real estate agent. But you still have to trust your intuition. Because at the end of the day, if you don't feel easy to work with an agent, every other quality does not matter.
Step 8: Take A Close Look At Your Contract
Once you're done, it's time to sign the listing agreement. You will sign different contracts if you're buying or selling. The buyer's agent agreement discusses the real estate agent commission, timeline, and agent duties. You might need to give exclusive marketing rights to your agent, and there can be a termination clause. Most buyer-agent agreements are valid for 90 days, but you can set a different timeline.
A listing agreement gives your agent the right to market your property. Most listing agreements are signed for 90-180 days. Again you'll enlist your real estate agent commission, property description, expected outcome, and realtor duties. You will want to include an exit clause if you don't receive any offers within a certain period.
Where to Find a Real Estate Agent
Top real estate agents can help you succeed. You can secure a better price and reduce the time it takes to close the deal. However, finding a successful real estate agent remains challenging because you must filter out bad actors. You may contact someone through online or newspaper advertising. However, it's your job to verify all the details. You can use different resources to find your real estate agent, but the secret lies in proper screening. Once you have done that, you will see the best possible person before you.
The Bottom Line: How To Find Real Estate Agent
Finding a real estate agent is crucial in buying or selling a property. A real estate agent is like a lawyer in a lawsuit. An expert lawyer can better present your case. Your real estate agent is your partner in the most important financial transaction. Therefore, you need to find the best one to avoid any trouble down the road. Take your time and make as much effort as you can to get answers to all of your questions.


In this guide, we have outlined all the essential tips for how to find a real estate agent. First, you need good sources for building an initial list of possible agents. Then it would help if you interviewed them correctly, and then after verifying, you will finalize an agent who is professional and resonates with you.