All You Need To Know About Moving Cost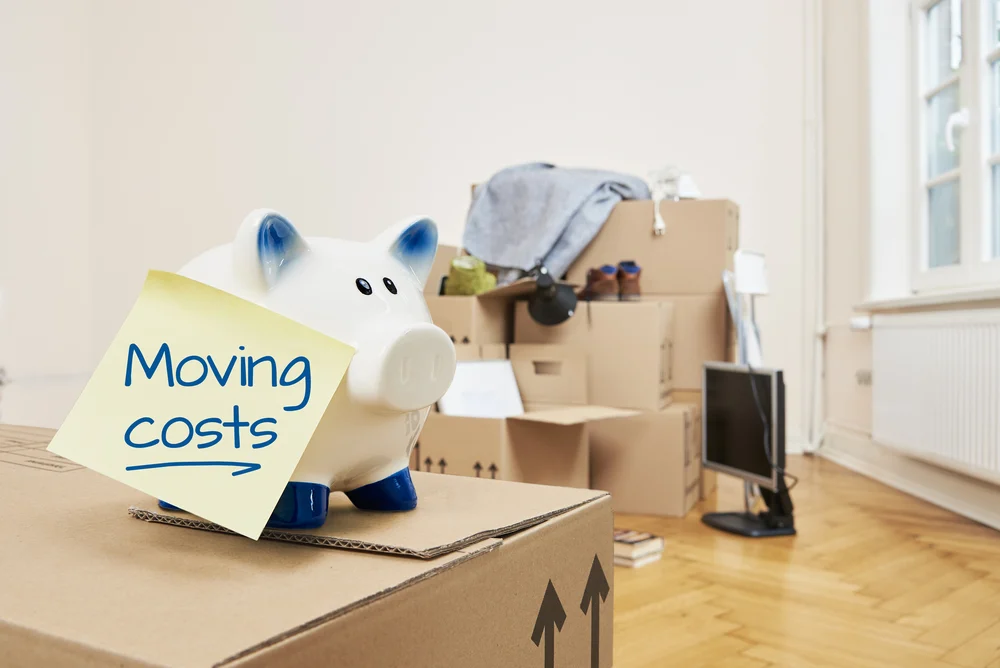 Selling your house and relocating to a new one is an exciting journey. Whether you are moving across the country or to an adjacent house, the process is difficult. You need to carry all your goods to the new home safely. It will cost both time and money. So, you need to know how much does it cost to move.
The moving cost depends upon many factors like distance, items, time, etc. It varies from $1,200 for a local move to $5,000 for a long-distance move. This article will inform you about all essential topics like types of moving costs, cost calculation, steps involved, etc. So, let us read together.
What Are Different Types Of Moving Costs?
Different moving costs allow you to choose different levels of help. It also depends upon the nature of the move. For example, you can:
Rent a moving container and load/unload yourself.
Rent a moving truck and do the loading and unloading job with your family and friends.
Hire a moving company but do the pack/unpack yourself
Hire a moving company for an all-inclusive deal
And there can be many options in between.
Factors in Calculating How Much Does It Cost to Move
The national average moving cost for a local move stands at $1200. It can cost up to 5000 for out-of-state moves. You need to have at least this amount to prepare for moving. However, these estimates are not constant. Many factors can influence your moving cost. If you know these factors, you might be able to reduce some of them or at least be ready for what to expect. Let us examine the most important factors that influence your costs of moving.
How Far Will You Be Moving?
The simple math is the further you want to move, the more it will cost. So, moving your stuff to 300 Km will cost more than 30 Km. However, this cost difference is not only about the distance. The distance may indirectly change many other parameters also. For example, moving an aquarium to 10km is easy, but if it has to be on the road for several days, it needs special arrangements. Intercity tolls and taxes also count. Moving costs sometimes get so high that it is wise to sell current things and buy new stuff at the destination rather than move them.
How Much Stuff Do You Want To Move?
When you contact a mover, the first question they will ask is how much stuff you have. For example, a studio apartment has fewer items. Thus it is cheaper to move as compared to a four-bed apartment. Similarly, a family of ten will have more stuff to carry than a family of three. So it all depends upon the number of things you want to move.
What Kind Of Luggage Do You Want To Move?
Not only does the number of things you want to move count toward the moving cost. However, their weight, volume, and delicacy can also impact the moving cost. Moving companies can handle regular household items easily. However, if your items are very bulky, pricey, or delicate, they have to arrange appropriate tools, packages, and labor to handle these things. For example, the challenge of moving large TVs is different than moving bulky furniture. Similarly, moving a car or an aquarium needs a unique setup.
How Much Insurance Coverage Do You Need?
Liability insurance is necessary when you are entrusting your valuables to a company. Moving companies have many packages to cover your loss. Make sure you get the appropriate package to ensure your loss recovery. For example, released-value insurance might pay back $0.60 per pound per item, which is not enough to compensate for your loss. Ask for full-value protection when possible. It makes sure you get a replacement value in case of damage. Also, insurance is not mandatory for a local move, but for interstate moving, the mover has to offer at least full and released value protection.
When Do You Want To Move?
The rule of thumb is when a mover is busier, they will charge more. Their busyness depends on the seasons, day of the month, and day of the week. Most people prefer to move on weekends so it is more active and will cost more. Similarly, the start and end of the month are busier for moving. Along the same lines, spring and summer are their busiest times when most people move. Holiday time is also famous for moving. Also, it will be costlier if you want to move at odd times, like midnight. Thus, if possible, avoid these rush times and get cheaper and better service.
What Is The Difficulty Level Of The Move?
All moves are not equal. Small entrances, bulky furniture, inadequate elevators, lousy lightning, etc., make moving more difficult. It will cost more if it is complicated to move into a house and pick up items. Going to Hilly or coastal areas will cost more due to the nature of travel. Similarly, if there is no nearby parking, the movers have to park the truck at a distance. All these factors make a move more complicated and pricey.
How Much Time Will It Take To Move?
As the total time is related to the number of items, size, weight, and difficulty level, the company has already adjusted it in your bill. However, there might be extra time used due to several reasons. For example, the company may have to wait for the home to be open, or the destination might take some waiting time. Any of these events will increase the total time and your bill.
How Many Services Do You Require?
A move comprises many services like packing, storage, loading, insurance, unloading, unpacking, etc. All companies do not provide all services. Moreover, you can do some jobs yourself. The more services you use, the more it will cost, and vice versa.
How Much Does It Cost To Move Across Town?
Most moves are local in nature. People move for many reasons but mainly within the same city or state. That is why more companies are working in local moves and are more experienced in it. Also, local moves have some standard rates and formats. For example, most companies charge per hour for their services.
Small homeowners can complete their relocation with a single truck and two movers. The larger the house, the more work you need. Many factors influence the moving price, as discussed earlier. The average moving cost is $250 for studio apartments and may range up to $1200 for a four-bed house. If you are on a tight budget and can take help from family and friends, you might do some tasks yourself. For example, you can do jobs like packing/unpacking yourself. This way, not only can you take care of your items better, but you also save money.
How Much Does It Cost To Move Across The Country?
Local movers are more common and standardized. Moving across the country is complicated. Many variables are involved in calculating the costs of moving across the country. In addition, companies have to follow many rules and care for many things. Thus you may find a wide range of quotes for country-wide relocations. Local movers charge hourly rates most of the time. However, moving across the country will at least consider weight and the distance to travel.
Moving heavier items or more items will cost more and vice versa. So, for weight-based moves, the process is simple. After loading your stuff, they will weigh an empty truck and then weigh it again. The number will represent the total weight of your belongings. The moving company can estimate the total weight before the move to estimate your total costs. For example, a three-bedroom house might contain 5000 pounds of goods while a more prominent home might contain three to five times more stuff.
The further the company moves your stuff, the more cost you have to pay. Calculating distance is easy, and you can do it on google yourself. Companies usually charge by miles; however, the cost of fuel and tolls may or may not include the rate. Thus you need to confirm this beforehand.
What Are the Additional Costs Of Moving?
The more a moving company has to pay or spend in your moving process, the more they will charge you. Your moving company might charge you some additional moving costs. You might be surprised by these costs if you don't know them. Here is a list of possible additional costs of moving
You may be charged for storage costs if there is a delay in getting to your new destination. The company has to store your items in storage, which will cost them so that they will bill it.
Your vehicles, like bikes, cars, and boats, need special arrangements; hence they will be charged separately.
The labor cost is higher in big cities, so you might have to pay extra.
Insurance may increase your costs of moving. We have discussed insurance separately.
Fragile items need special care and boxes etc.
Sometimes movers have to walk an extra distance from the truck to the home. Similarly, if the elevator is not available, it will increase labor costs.
If the trucks have to pay parking charges, the company will include them in the price.
Odd-shaped and narrow streets, stairs, or entrances make it challenging to handle the luggage easily. Hence we have another addition to the moving costs.
What Are Moving Costs Agreements?
The moving industry follows well-settled protocols. For example, the popular Tariff 400-N book is the principle document for moving household items. The Household Goods Carrier Bureau publishes this book. When you contact a moving company, they will provide two types of quotes. These quotes follow Tariff 400-N. The first quote shows non-binding estimates. The second quote has estimates that will not exceed the price.
Non-Binding estimates reflect their best guess. However, it might change in the final bill when the company adjusts its actual expenses. In contrast, not-to-exceed estimates show the maximum price of a move for a particular house. These quotes will give you an idea of the average moving cost.
The Bottom Line: How Much Does It Close To Move?
Unfortunately, due to increasing fuel and labor prices, the average moving cost of a house is also growing. Thus estimating and budgeting for the moving cost is a wise step in moving to a new home. How much does it cost to move is related to several things like distance, weight, time, and other resources used.


A home value estimator can give you a correct idea of your home's worth. You can also check online reviews to see how much it costs to move to a similar home in your area.  Similarly, a good moving company can provide accurate estimates of how much it would take to move. This article outlined all key factors determining the cost of moving to a new home. It can give you an idea of how much you have to pay. Also, it guides you about what to watch and ignore in this regard. For any questions, please feel free to contact us.