Estimate Your Home Value Before Getting A Mortgage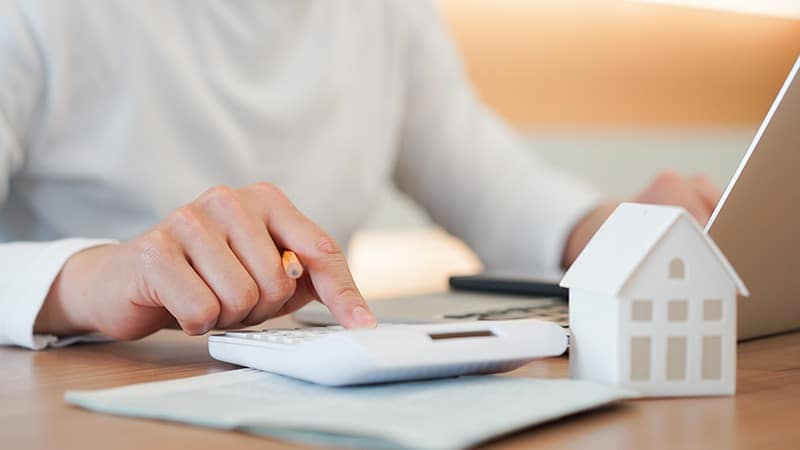 Buying your dream home requires getting a mortgage. Let's learn how to get a mortgage. Unfortunately, getting the best mortgage takes work. Rates are rising, so you need to decide now. Using online calculators to find out about your mortgage is a fun start. However, getting a home loan is a laborious process. You may waste your time and effort if you do not know the procedure or do it wrong. This guide helps you learn all about mortgages using an easy, step-by-step approach.
What Is A Mortgage Loan?
A mortgage loan is backed by collateral (real estate). The mortgage deed is an agreement between the borrower and the lender. The lender lends the money to the borrower for interest and uses the home as collateral. Unfortunately, most people can't avoid mortgages because of high home prices in the US.
Conventional mortgages last for up to 30 years. Monthly payment counts for the interest, principal (total borrowed), taxes, insurance, etc. Lenders enjoy profit on their investments for decades to come. In addition, they have the house's security as collateral, so it is a safe investment.
Essential Steps On How To Get A Mortgage
A mortgage has some preconditions you need to meet. Here is the step-by-step guide on how to get a mortgage.
Step 1: What Is Your Credit Score And How To Check It?
The lender will give you money after evaluating your credit score. A score is a number between 300-850. A strong credit score shows lenders that your finances are healthy. Thus their risk will be minimal. However, the Federal Housing Administration (FHA) can entertain you with as low as a 500 score if you meet other requirements. However, for applying to most conventional lenders, your score should be 620+. With a good credit score, you will get the loan quickly, and your interest rate will also be low.
So to move ahead, first, you need to get your credit report. Many credit bureaus can give you your FICO report. Although FICO reports are more common, some sites use VantageScore for credit evaluation. Both statements may differ on a few points, but the essence is the same. You may download your credit report free from some websites or for a minor fee.
Once you get the report, check it carefully for errors and omissions. If the statement is incorrect, you must correct its information through the credit bureau. Once fixed, it will improve your credit score. If your credit score is still low after removing discrepancies or there is no error in the report, you can try more steps to improve your credit score.
Step 2: How And Why Should You Improve Your Credit Score?
The credit score is a strong indicator of financial health for any person. A high credit score ensures quick loan approval and a low-interest rate. In addition, a higher credit score shows the lenders how responsible you are with your credit.
If the score is low, you need to boost it to move ahead. There are many ways of improving it. However, it will take several months. Here are our top tips to improve your credit score.
Be responsible with your loans. Pay as much of your current debt as possible. It will improve your score.
Make your debt payments as soon as possible. As payment history can contain the past two years or more, the sooner you start improving it, the better. On-time payments can boost your credit score by as much as 35%,
Check your credit score 3-6 months before applying for the loan. You can quickly figure out what factors are contributing to a bad score. This knowledge will help you to change your spending patterns to improve your credit score.
Try to use at most 30% of the available credit.
Don't close unused credit cards. Having more credit cards available will reduce your debt consumed to debt available ratio.
Your debt-to-income (DTI) ratio shows the amount of debt you have compared to your income. The better your DTI, the better your financial health is. Try to improve this ratio to get a mortgage in better conditions. (One way is to have your credit limit increased by credit card companies.)
Step 3: Select The Right Type Of Mortgage
Now you need to identify and select the type of mortgage loan that best suits your needs and income. We can divide a loan into two broad categories: government-backed and conventional (or regular). We can further divide loans into different types according to a fixed or adjustable rate, duration, and down payment.
What Are Conventional Loans?
You should take this path if you have a solid credit score and a handsome down payment. Most banks deal in conventional loans, which you can get from lenders.
What Are Government-Backed Loans?
The Government back loans offer various loan options to Americans. These loans have subtypes like
FHA Loans can have a credit score requirement of as low as 500. The down payment is also minimal. The Federal Housing Administration backs these loans.
V.A. Loans are available at favorable terms to active and veteran service personnel and their surviving spouses. The Department of Veterans Affairs (V.A.) guarantees V.A. loans.
USDA Loans help buy a house in rural areas. This loan has a minimum down payment and credit score requirement. The U.S. Department of Agriculture backs USDA Loans.
What Are Jumbo Loans?
Jumbo Loans are more suitable for expensive properties. It might be your only option if you want to buy a home in an expensive area. The current upper limit for a house is $970,800 in high-priced cities and $647,200 for the rest of the country. You must get a jumbo loan if your selected home worth is above that limit.
What Are the Other Aspects Of The Loan?
Two loans may differ in interest rate, whether fixed or adjustable. Similarly, the mortgage term and down payment might vary. These changes might have the side effect of additional insurance if your equity is less than 20%. Understand these details and fine-tune them according to your specific needs and income.
Step 4: Get Pre-Approved For A Mortgage
You should get pre-approved for a mortgage due to several reasons. First, it gives power to your price offer for a house. Second, you already know what you can or cannot afford. Finally, it will speed up the closing process. Let us now dig into the info about the mortgage pre-approval.
You can get mortgage pre-approval from at least 3-4 lenders. Getting first pre-approval is hard, but you have many documents ready and verified for the following applications. However, it would be best if you did all pre-approvals in a short period, say one month. It will avoid unnecessary hard inquiry counts. Having more than one pre-approval will allow you to compare the rate. You may save a lot with this step. Also, if you get rejected by one of the mortgage lenders later, you will have other choices.
Step 5: Submit Your Application And Prepare For Closing
This step consists of underwriting and closing. First, the mortgage lender will evaluate your eligibility. Then they will do a home evaluation process. Finally, the underwriting and closing will take place.
Knowing your credit score is essential to check your eligibility. However, keeping your financial status unchanged during the checking process is necessary. Thus, changes like switching jobs, getting a large purchase, or getting a new line of credit may undermine the whole process.
To evaluate the actual market price of the home, the lender will order a home appraisal. The appraisers are evaluation experts and can help determine a home's value.
You also need a home inspection to look for defects and required repairs. You may ask for a price reduction if the house needs high-ticket repairs.
The mortgage lender will likely approve your loan when the above steps are complete. Congratulations. However, you still need to take some more action in this regard. For example, the lender might require you to have the following:
Lender's title insurance policy. You may also buy a homeowner title insurance policy. These insurances will help if there is a problem with the title of the property in the future.
Buy homeowners insurance. There are many options available. You can shop for better rates.
Do a final check on your home. Make sure that the owner has done your requested repairs if any. Also, ensure the owner has not made any significant changes in the house.
Review loan documents for any changes. Compare it to initial estimates.
Get your cash ready. You may need to get a cashier's check or wire transfer it.
Be prepared to pay the closing costs if it is part of the agreement. In a buyer's market, you can transfer it to the seller, but if you have to pay, you need this cash ready.
Step 6: Close On The House
Welcome to the end. The final step is to close on the home. If you have any questions, please ask them now. If you are double-minded or dislike the property, you can walk away. However, you will lose your earnest money. If everything is ok, then go ahead with the signing process. A lot of paperwork is involved, and you need to understand them well. You need to know what you are signing for and how much you must pay back. Covid limitations and state laws might determine who should be present when signing. However, your realtor will help you here.
Congratulations on the final step. Enjoy your home sweet home.
The Bottom Line: How To Get A Mortgage
Ready to finance your home? Now you know how to get a mortgage. Start with your credit score and move slowly toward the next steps. It's best to wait for a while to get a mortgage. 

Buying a home is a multi-step process. The first step is to arrange funds for this large purchase. The popular and most feasible method of home financing is a mortgage. So, you need to know how to get a mortgage.

Now to get a mortgage, you need to do several things. First, you have to check your credit score. Next, see if it needs any correction or if there is any other way you can improve your credit score. Finally, you can finalize what loan plan best suits your income and needs.

If you have difficulty finding the best rate, you can wait or go for whatever option is available. Waiting might be difficult emotionally. However, waiting for a better opportunity or improving your finances is wiser. Please contact us if you need any help in this regard.
How to get a mortgage: FAQ
These are our top FAQs related to how to get a mortgage.