What Flooring Increases Home Value?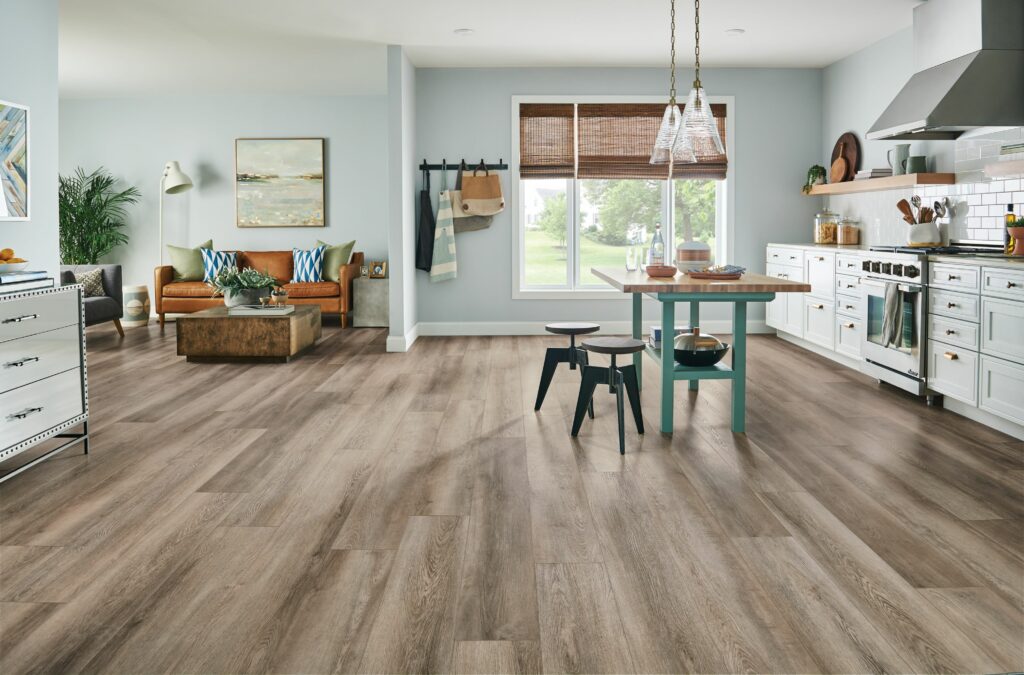 There is a powerful saying, "A home is where the heart is." There are many things that make this true, and many aspects of any home make it look beautiful.
However, of all the fundamental features that affect the home's appearance, flooring is often overlooked. If you want to sell your home at a good price and are looking for ways to remodel it, then it may be a good idea to invest in flooring.
Many real estate agents consider flooring as the most important aspect after the roof and the other mechanical aspects. Flooring can spice up the entire home's appearance and thus sets the tone and mood.
But what kind of flooring increases home value? There are various options to consider when it comes to flooring. Several factors influence the flooring type that is suitable for your home. Considering those factors you can choose the best flooring to increase home value. This article shares all the basics related to flooring and how it increases a home's value.
Just like everything in life, the flooring industry has also seen a lot of changes. Almost two decades ago carpets were a big thing. However, carpets were replaced by hardwoods and today the trend is moving towards luxury vinyl tile and laminate flooring types. But, does vinyl flooring increase home value? Let's find out below:
Which Flooring Options Should Buyers Consider?
Wondering what flooring increases home value? There are different flooring types to consider for your home. The most popular and in-demand ones are discussed below:
Hardwood
Hardwood has been the most popular choice among home buyers and real estate agents alike. This makes hardwood one of the best flooring types to increase home value. According to a recent study done by the National Association of Realtors ®, about 90% of homeowners who have switched to hardwood floors want to spend more time at home whereas 77% have an increased sense of enjoyment at home. With hardwood floors, you can target the biggest market segment. A recent study has found that 54% of buyers are willing to pay more for a home having hardwood floors.
You can select hardwood floors for your kitchen, living room, entryways, and common spaces. However, don't select them for your bathroom, as they get damaged by moisture and are easily warped. For bedrooms, you can either have a carpet or hardwood. The only downside is the cost of hardwood floors. The cost varies according to the type of wood and ranges from $5 to $20 per square foot with an additional $4 to $8 per square foot for installation.
However, hardwood floors also generate the highest ROI. An average ROI for hardwood installation is 70% to 80%. It boosts the average home value by about 2.5%. For example, if a home value is $200,000, hardwood floors installation would increase it to $205,000.
Engineered Hardwood
Engineered hardwood is the next best flooring to increase home value after hardwood flooring if the latter isn't in your budget. This flooring type offers a similar ROI to that of solid hardwood. The selection of engineered hardwood merely depends on your taste and preferences.
It is made of the same hardwood, but by merging cross-layers of wood veneers. Engineered hardwood flooring is not only more humidity resistant but also has the same charm and beauty as solid hardwood. It is available in different wood species giving you some options to choose from to fit into your decor.
Laminate
If you are looking for home renovation on a budget, laminate is the best flooring to increase home value. Not only is it durable, but also comes in a variety of styles to suit your home's appearance. The wooden-laminate look gives an appearance of real wood without requiring wooden maintenance. This makes it a great flooring option for families with young children and pets.
You can find laminate floors in a range of colors that complement your home. This flooring is also quite affordable, which means you should get a pretty good return on your investment as long as the floors are in good condition. Another plus point is its easy cleaning and maintenance. Lastly, a high-quality laminate floor looks more like a hardwood floor which is great for making a powerful first impression on the buyers.
Waterproof Flooring
Waterproof flooring is best suited to households with large families. It offers beauty and practicality combined, making it the best flooring to increase home value for a moisturized home environment. The perfect spaces for waterproof flooring include kitchens, bathrooms, basements, and laundry rooms.
Waterproof flooring is available in different flooring types, pricing, styles, and brands. Waterproof hardwood flooring products similar to vinyl flooring are also available including waterproof vinyl flooring styles. Use an epoxy coating if you want flooring to withstand moisture and heavy traffic.
Tile
Tile is the best flooring to increase home value for bathrooms, laundry areas, and kitchens. Kitchens and bathrooms help in selling homes, which is why you need to select the right flooring for these two spaces. Tiles usually don't offer any ROI and are difficult to install and maintain. Typically a tile costs anywhere from $12 to $44 per square foot, depending on the type.
Ceramic tiles cost the least, but come with a high labor price. However, you can earn around 70% ROI if you choose to install this type of tile on your own. Marble is the most expensive tile option and is not suitable for low-mid range homes. It does look attractive but requires special care that most home buyers are not happy with.
Vinyl Flooring
Does vinyl flooring increase home value? Is it the way forward as far as flooring in 2022 is concerned? The answer to this question is yes. Vinyl is absolutely an upcoming floor trend for different reasons. The best part about vinyl flooring is that it is cost-effective. This attracts a lot of budget-conscious homeowners interested in an aesthetically pleasing home without spending a lot of money.
Vinyl costs only $0.75 to $4 per square foot in addition to the installation charges. This way you can spend less on your floor and generate a fast ROI. It is the best choice especially if you are investing in real estate and need to know the cost to build a house. You would also find vinyl flooring options in different colors and textures to fit your decor.
There are several benefits to installing vinyl flooring for homeowners. It is durable and has a longevity of 10-20 years. It's also waterproof so you don't need to worry about stains and spills on the floor. Most vinyl floorings are also scratch resistant which is another plus for families with children and pets. Lastly, they give a hardwood floor look without the heavy cost and maintenance. However, vinyl that is a hardwood look alike doesn't generate the same ROI as real hardwood does.
The Bottom Line: What flooring increases home value?
Renovating your home's flooring is a great way to enhance its appearance and resale value.  You can choose from the different flooring options shared above. Every flooring option has its pros and cons. The best flooring to increase home value depends on your taste, budget, and home environment. If you are looking for a budget-friendly, durable option, and wondering what kind of flooring increases home value then don't look any further than vinyl flooring options. It is the best choice in increasing the value of your home. Good luck!