First-Time Homebuyer's Guide 2023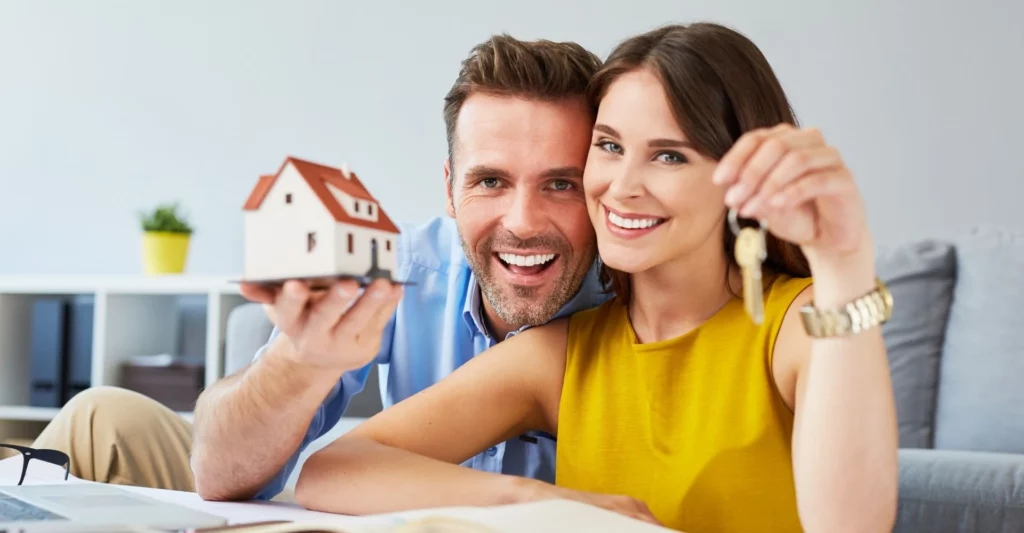 First-time homebuyers represent as much as 33% of homebuyers. However, buying a house for the first time is complicated for several reasons. First, it is a costly decision. Second, there are many tasks and documentation involved. Third, homebuyers have to meet many legal and financial conditions. Thus they need extra help in taking their first steps as a homeowner.
Fortunately, first-time buyers can benefit from several unique programs and grants. In addition, they can enjoy tax breaks and federal and state loans. While options are available, you need to research. This guide is full of first-time homebuyer tips to simplify things for you.
What Are The Benefits Of Being A First-Time Homebuyer?
The federal and state governments benefit first-time homebuyers because they are more vulnerable to market fluctuations and wrong decisions. A First-time homebuyer can enjoy benefits such as:
Loans backed by the federal and state governments.
Possible low or no down payment options.
Tax breaks like interest deductions and no tax on rental value might be available.
Relaxed qualifications for eligibility.
Who Can Qualify As A First-Time Home Buyer?
The U.S. Department of Housing and Urban Development (HUD) defines first-time home buyers' conditions. HUD may view you as a first-timer:
If you have not owned a principal residence for the last three years.
If you are a single parent and only owned a house while married to your former spouse.
If you are a displaced homemaker who only has owned a home with the spouse.
If your property is not in compliance and the cost of compliance is more than the cost of reconstruction.
Note: If you don't see yourself as eligible at first sight, there might be a legitimate way to make you qualify. For example, say you or your spouse owned a home. You can purchase a place together to qualify as a first-time home buyer. For more details, consult HUD documents.
Our Special Tips For First-Time Home Buyers
Buying a house for the first time can be tricky. Luckily, there are many ways to save time and resources. We have compiled some best tips for first-time homebuyers. Our strategies will help you save on move-in expenses, down payment, closing costs, etc. So, you can shop and buy your dream home with the least possible hassle.
Why Do You Need To Start Saving Early?
First-time homebuyers should start saving early to make their purchase smoother. Saving early has another benefit of time. The money needs time to grow. The more time to grow you can give to it, the better the results will be. Disciplined budgeting can help you in the saving mission.
Live in a small house for some time
Don't touch bonuses
Pay the credit card bill in full. It will also improve your credit history, ensuring a better mortgage interest rate.
Delay impulsive buying for 1-3 months. It will give you time to rethink.
You will need money at many steps of the buying process. Here are some main expenditures:
Down Payment
It is an initial payment made while buying a house on a mortgage. It might be your most significant expense while purchasing a home. While the market standard for repeat buyers is up to 20%, you may get as low as 7% as a first-time homebuyer. And if you have a good credit rating, you may go as low as 3%. Still, to buy a $200,000 house, you need to pay $6,000. You need to save this amount anyway. You can start saving by setting up an automatic withdrawal to a saving account. Don't touch this money for impulsive buying. Let it grow, and keep adding as much as you can.
Closing Costs
Closing costs are the fees and expenses other than the down payment etc. It includes service fees of professionals like attorneys, inspectors, etc. In addition, it contains expenses like title and record filings, insurance premiums, commissions, and taxes. These costs differ and typically range between 2%-6% of the loan amount. In some cases, both the buyer and seller must pay these costs. You may ask the seller to pay these expenses in a buyer market. However, if you have to pay for it, you need to save money.
Move-In Expenses
Moving into your new home will cost money. First, you have to pay for the transportation. Second, you may need to make some necessary repairs. Third, there might be cleaning costs and supplies. Finally, you may have to fine-tune the new home according to your taste, like buying new furniture, decorations, etc.
Determine The Price Of House Which You Can Afford
While buying a house for the first time, you need to find a blend of what you need, what you love, and what you can afford. The important thing is to analyze your situation unbiasedly. For example, pre-approval will give you an idea of your spending limits. Also, you may use online affordability calculators for help.
Why Checking And Strengthening Your Credit Is Important?
There are many reasons to have a good credit rating. First, it will determine how much a lender can pay you. Second, a good credit score will ensure a lower interest rate. Finally, a good credit score is also a measure of your financial health and balanced life.
To strengthen your credit score, first, you need to know its current status. You can get a free credit score report from Experian, Transunion, and Equifax. Once you know your credit rating, let us see how you can improve it.
Dispute any errors in your credit score.
Pay your bills on time.
Keep all of your current credit cards open.
You may apply for additional credit cards. It will improve your allowed credit versus used credit ratio.
Keep an eye on your credit score.
Our Top Home Purchasing Tips
As a first-timer, it is easy to miss essential details in excitement. However, you must protect yourself from any situation you can not handle. Here are our most important tips when buying first home. First, have an expert opinion about the house. Second, have a cover if something goes wrong.
Why Paying For Home Inspections Is Important?
What is your home worth? Your inspection report can reveal errors that might lower the value of a property. A professional home inspection is like a complete medical checkup for a home. It will show if a house's structure, equipment, or systems have problems. It can save you from buying a problematic house. It can also guide you about any close-to-failure parts. You can get a price reduction to cover this or avoid the purchase. Keep these tips in mind while asking for home inspections:
Find an inspector yourself. It is not advisable to ask the seller for a home inspector.
You should pay the inspection fee yourself.
If possible, accompany the inspector. If not, read the report carefully and ask if something is not clear.
Be sure that every part of the home is accessible to the inspector. Having some areas not checked can be problematic.
General home inspectors are suitable for many cases. However, you might need a more specialized inspection if the area has problems like radon, pests, etc.
Why Buying Adequate Home Insurance Is Important?
Buying adequate home insurance is wise, even if you buy a home for cash. However, in most cases, the lender requires it to protect their investment. Moreover, an area may need specific insurance like flood insurance.
Typical protection clauses include tornado, fire destruction, lightning, storm, explosion, theft, riot, volcanic eruptions, etc. Earthquakes and flood damage usually need a separate policy. Your policy may or may not include losing precious items like jewelry.
A good insurance policy should also be able to cover third-party liability claims. If not, you should have liability insurance as additional protection. Finally, you may use an umbrella policy to protect all your important assets in one package.
Our Top Home Shopping Tips
Why You Should Carefully Choose Your Real Estate Agent?
A real estate agent is like a business partner in your mission. Thus choosing a professional and easy-to-reach real estate agent is inevitable. A poor choice here will limit your options in the future. First, ask recent home buyers in your social circle for referrals. Then you may ask your lender, search online, or visit nearby realtors to find the most suitable person.
Interview 3-4 realtors. Be friendly but do not disclose all of your information. You can ask questions like the market status, their experience, how they help first-time homebuyers, how to find a home, etc. Ask for references and verify them.
How To Pick The Right Type Of House And Neighborhood?
It is essential to pick a house that matches your budget, wants, and needs. Some designs have inherent issues that might not fit your lifestyle. For example, homes with shared walls with neighbors might have less privacy. On the other hand, if you are very social, this may be a plus point or vice versa.
Selecting a good neighborhood is also very important. The obvious thing to look for is your commuting distance. Then schooling of your kids. Hospitals, parks, and shopping center distance is also critical. Finally, every neighborhood has a personality. See if you like the surroundings of your future home. A gated community has its benefits and restrictions.
Why Is Sticking To Your Budget Important?
Your budget is the total amount you can afford to buy a house, so sticking with it is obvious. The problem arises when you start loving a home., emotions are involved, or you feel a place is cheaper. Greed or fear of missing out (FOMO) might push you to over-commit.
Unfortunately, your lender might offer you more than what is easily affordable. It may give you a false sense of what you can afford. However, buying a home is a decision with long-term consequences. The key point is that you don't fit your budget according to a home you like. Instead, find a home that fits into your budget limit. Asking some realtors might give you an idea of the suitable range. Stick to that budget, and you will not regret it.
How To Make The Most Of Open Houses?
Open houses are fun to visit. It is lovely to feel at home in a new house. Although online 3D homes are getting popular, they can not convey all the details of a house. Moreover, we all know how filters are applied to give extra shine. Online visits are only helpful in short-listing homes. You have to go there several times to look for every detail physically. While visiting, keep these tips in mind:
Do it slowly. Seeing many houses on Sunday will confuse you.
Don't rush yourself. A new home will take time to settle down.
Focus on things that are difficult or impossible to replace. Don't let poor aesthetics disturb you.
Ask technical questions about plumbing, heating, electrical, etc.
Be objective and hide your love or hate for the house.
Best First-Time Buyer Tips For Mortgage Selection
How To Explore Different Mortgage Options?
Depending on a down payment, interest rate, loan amount, loan duration, processing fees, and eligibility criteria, mortgage options vary. So naturally, you must take the best possible route suitable to your situation. Let us explore some of these options.
The Federal Housing Administration (FHA) offers up to 3.5% down payments. FHA designed these loans for persons with low credit scores or savings.
VA loan with zero down payment is available to active-duty military members, veterans, or surviving spouses. The Department of Veterans Affairs guarantees these loans to assist its members.
The US Department of Agriculture (USDA) has designed loan packages for rural areas. The USDA mortgage assistance program offers low or no down payment and other benefits.
If a person can not avail of any of the above loans, then the route of conventional loans is always open. The government does not back these loans. So they have higher interest rates and down payment conditions. Usually, borrowers with solid credit ratings use this route for its flexible terms and conditions. Still, as a first-time buyer, you may qualify with as low as a 3% down payment.
What Are First-Time Home Buyer Assistance Programs?
First-time homebuyers can join unique county, city, and state assistance programs. For example, an assistance program might have lower closing costs, down payment, and interest rates. In addition, some states offer tax credits that you can use while filing your federal tax returns.
States run these programs with participating lenders. You can search for these programs on state-level resources. For example, a simple search for "What benefits do first-time homebuyers get in YourStateName" can give you all the essential links to move ahead.
Compare Mortgage Rates And Fees And Choose The Best
It is wise to compare mortgage rates from different lenders and choose the best. Even if the two lenders' interest rates are the same, there might be a difference in processing fees. Many lenders will offer you mortgage points. It is the fee that will reduce your interest rate. So, for example, if you have money available and will be living in this house for many years, availing of this offer will be beneficial. It is optional, and you may ask the seller to pay for mortgage points in a buyer market.
To start a comparison, check the rates of different lenders from their online calculators. Then ask for fine details about the loan. The law requires the lender to give you a loan estimate. This document will show you the interest rate and closing costs. It will also show you the loan cost in the first five years.
The Bottom Line: First-Time HomeBuyers Tips
Buying a house for the first time is a tough job. However, it can be an enjoyable process if you properly plan and follow through with your plan. In this article, we tried to cover the best tips for first-time homebuyers. Before buying a property, know how much your home is worth. Request an appraisal, CMA, and inspection report. Then plan the purchase. 


Now you know how to plan for a mortgage, repairs, insurance, inspections, and the closing process. Your credit score is the first step, so it's best to improve your credit score before applying for a mortgage. Then you can follow through the next steps to be a successful first-time buyer.