Delaware Housing Market 2023 Report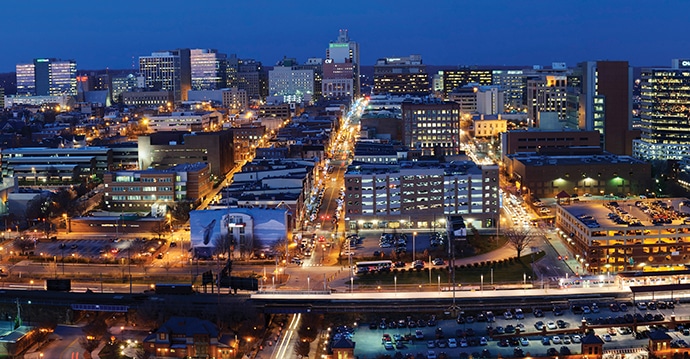 What is the Delaware Housing Market Like?
After an exponential rise in the wake of the COVID-19 pandemic, Delaware home prices have started to show signs of slowing down. The Delaware housing market overall is cooling down as would-be home buyers must contend with the skyrocketing mortgage interest rates and still high property prices. As a growing number of house hunters find themselves priced out of the market, the demand is declining, and the number of days on the market is growing.
According to the latest data available at the time of writing, the Delaware median sale price had reached $359,900 for September 2022, marking a 10.2% increase compared to the year prior. Properties were staying on the market longer, with a median number of days on the market of 30 compared to 20 the previous year. Sale volume has also declined, with 1,412 houses sold in September 2022, 20% less than in September 2021.
However, the inventory is shrinking: there were only 4,212 houses for sale in September 2022, including 1,515 newly listed homes, accusing declines of 3.7% and 17.9,% respectively in a year-over-year comparison. There were only two months of housing available, unchanged since last year, a far cry from the five to six months necessary for a balanced market.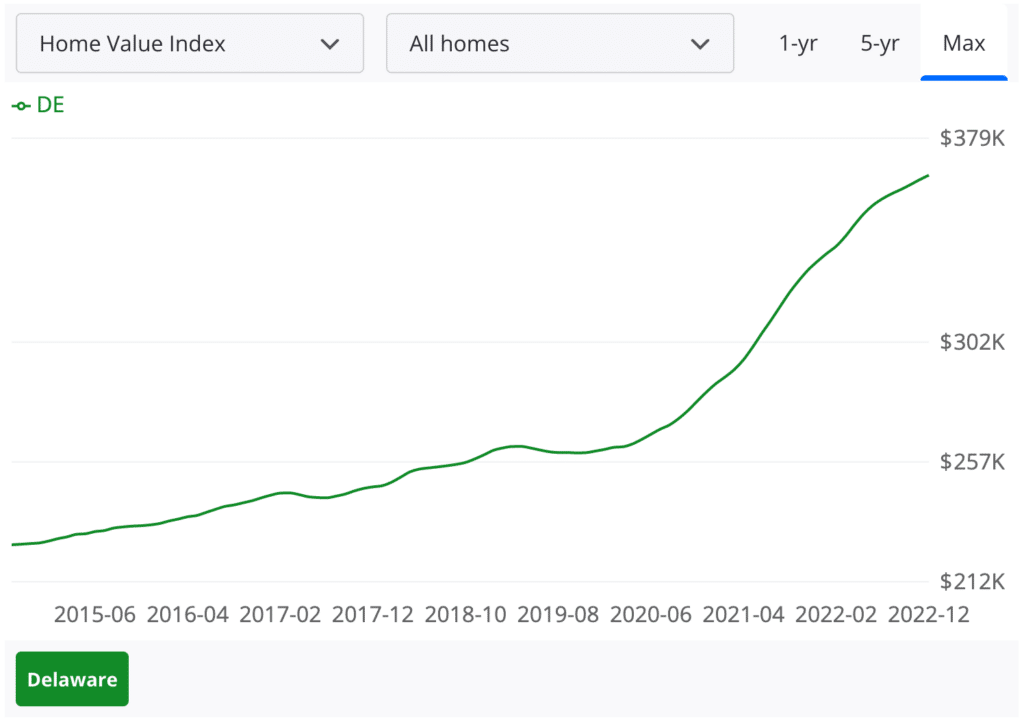 How does the Delaware Housing Market Compare to the National Housing Market?
The trends observed in the Delaware housing market are following the ones observed in the national real estate market. In recent years, the housing market in Delaware has grown exponentially due to the interest rates standing near a historic low. However, starting in March 2022, the Federal Reserve Bank initiated an aggressive interest rate hike policy as a means to fight back against inflation that stands at a forty-year high. As of November 2022, the Fed had increased interest rates four consecutive times by 75 bps, bringing mortgage rates to hover around 7%, a level unseen since April 2008 and over twice as high as they were the year prior.
Such high interest rates, coupled with the high property prices we have observed in the past two years, have led to the average mortgage being approximately $1000 higher than one for a similar home at the same time last year. In consequence, would-be buyers find themselves effectively priced out of the market or may consider postponing their home-buying plans to a later date when mortgage rates become more affordable, contributing to declining demand.
However, despite the slowdown in demand, the national housing market is still suffering from a significant housing shortage that predates the pandemic and contributes to keeping property prices higher than usual. Delaware, with a mere two months of housing supply, is no exception.
Delaware Metro Areas with the Hottest Housing Markets
Delaware is the second-smallest and sixth-least populous state but also the sixth-most densely populated. The population is, in the majority, living in an urban environment, with many residents commuting to large cities in other states like Philadelphia or Baltimore, given the small size of Delaware. Here are the hottest housing markets in Delaware in terms of sale volume:
Wilmington
Wilmington, which is located within commuting distance of both Philadelphia and Baltimore, is Delaware's most populous city, with a population of 70,635 residents, and its economic hub. The housing market in Wilmington is very competitive, with listed properties receiving four offers on average and going under contract within 22 days of listing. 34.7% of properties sell above the listing price. Despite the general Delaware housing market slow-down, the median sale price is still climbing steeply in Wilmington, with a median home sale price of $291,000 in September 2022, 19.4% higher than the previous year.
Dover
Dover is the state capital and second-largest city in Delaware, with a population of 36,047 people. The housing market in Dover is very competitive. Listed properties for sale receive three offers on average and only stay on the market for a median number of days of 18. 37.4% of properties sold above the asking price, and the median sale price had reached $273,000 in September 2022, increasing by 5.8% in year-over-year comparisons.
Newark
If the Delaware housing market overall is showing signs of slowing down, the housing market in Newark, the third-largest city in Delaware with a population of 31,454, is still white hot. Homes for sale in Newark, DE, receive five offers on average and only stay on the market for a median number of days of 19. 35% of Delaware home sales sold above the listing price, and the median sale price was still increasing sharply in September. The median sale price in Newark had reached $350,750, 22.6% higher than the year before.
Higher Mortgage Rates Could Slow Down the Price Growth in Delaware
As of November 2022, mortgage interest rates are hoovering around 7%, their highest level since 2008. The increased cost of borrowing money translates in tens of thousands of dollars over the life of the loan and has significantly affected house hunters' buying power. Therefore, the rapid growth we have observed in the past two years – and are still observing in some of the hottest markets in Delaware – is not sustainable. The Federal Reserve Bank has already announced that several more interest rate hikes were likely before inflation slows down to a targeted rate of 2%. Therefore, mortgage rates will probably keep rising in the short- to mid-term.
Delaware house prices are still going strong, and the lack of inventory is preventing property prices from slowing down. However, it is likely that the staggering growth we have observed will pace itself to more conservative levels. Rather than a market decline, a market correction, with a slower Delaware home price increase, is foreseeable, bearing any unexpected events.
Key Market Stats for the Delaware Housing Market
According to September 2022 data, some of the key market stats for the Delaware housing market appear as follows:
Median home price: $359,500 – a 10.2% Y.o.Y. increase.
Home sales: 1,412 – 20,0% less than a year ago.
Months supply of inventory: 2 – up from 1 in September 2021.
Mortgage rates as of November 10th, 2022: 7.08%.
Delaware Historic Price Changes and Affordability
The Delaware housing market has demonstrated consistent growth over the past ten years, but Delaware home prices have accelerated significantly in the wake of the COVID-19 pandemic. The median home price has increased from $259,400 in September 2019 to $359,500 in September 2022, with a peak of $371,800,200 in July 2022, representing a 38.58% increase in 36 months. Some cities in Delaware are still showing double-digit growth in a median home sale prices well into September, showing that the Delaware housing market is still going strong despite a significant deceleration at the national and state levels.
However, such growth is not sustainable, and it is likely that we will observe a more noticeable slowing down of Delaware home prices in the coming month. As the mortgage interest rates continue their assent, buying a home, especially when property prices remain sky-high, is not a viable option for many would-be buyers. Salaries are not rising nearly as quickly as the property value. Besides, buyers must contend with inflation, which is at its highest level in decades, which also affects their buying power as well as their general optimism. Nevertheless, it is unlikely that property prices will crash since the demand remains strong and the available inventory is limited.
Key Takeaways
Overall, the housing market in Delaware is still going strong despite the undeniable impact of the increasing interest rates on the demand for real estate.

Some local real estate markets are still seeing median home price growth in the double digits, showing that the demand for housing in this small but centrally located state is still higher than the limited inventory.

Home prices in Delaware are likely to keep increasing in the short- to mid-term, albeit at a slower pace than the staggering growth we have observed in the past two years.
2023 Delaware Housing Market FAQ