Idaho Housing Market 2023 Report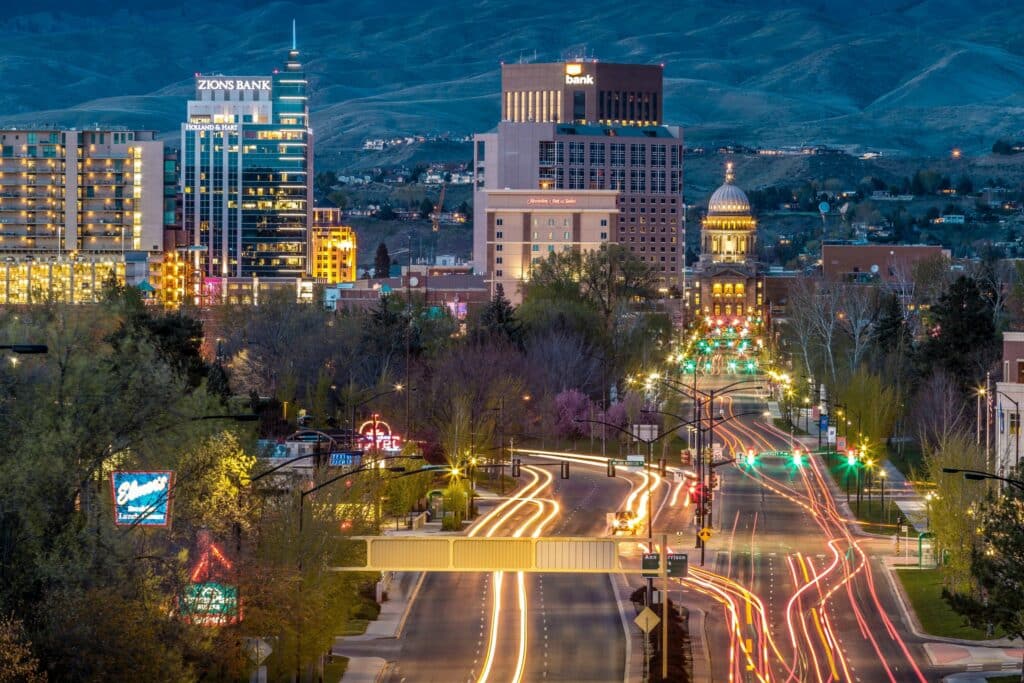 What is the Idaho Housing Market Like?
The Idaho housing market has been catapulted to new heights in the past two years, making this Pacific Northwest state one of the fastest growing in terms of population growth in the past two years. As widespread remote work reduced the necessity for many workers to live close to their place of employment, out-of-staters have flocked to Idaho, seduced by the dynamic economy, high quality of life, and affordable housing prices. Idaho remains competitive in 2022, with over 4,000 more newcomers to the state above residents trying to leave it. Therefore, Idaho home prices have reached numbers never seen before, powered by a combination of low interest rates, high demand, and low inventory during the COVID-19 pandemic. Nevertheless, the aggressive monetary policy initiated by the Federal Reserve Bank in an effort to curb down inflation is showing its effects on the housing market in Idaho.
According to data collected in October 2022, the latest available at the time of writing, the median home price in Idaho stood at $481,300 after reaching a high of $529,300 in May 2022. Inventory remains limited with three months of housing supply, an improvement from 1 month in October 2021, but a far cry from the 5 to 6 months necessary to reach a balanced market. The Idaho housing market is showing signs of cooling down, with only 1,834 properties sold in October 2022, 35.2% less than the year before. Properties are also staying on the market a lot longer, with a median number of days on the market of 49 in October 2022, almost double compared to 25 in October 2021.
Idaho home prices are continuing their upward trajectory but at a significantly slower pace. The median Idaho home price in October 2022 was 3.3% higher than a year prior, while the median sale price in Idaho in October 2021 was 29.5% higher than in October 2020, as the increasing interest rates have significantly affected housing affordability across the country.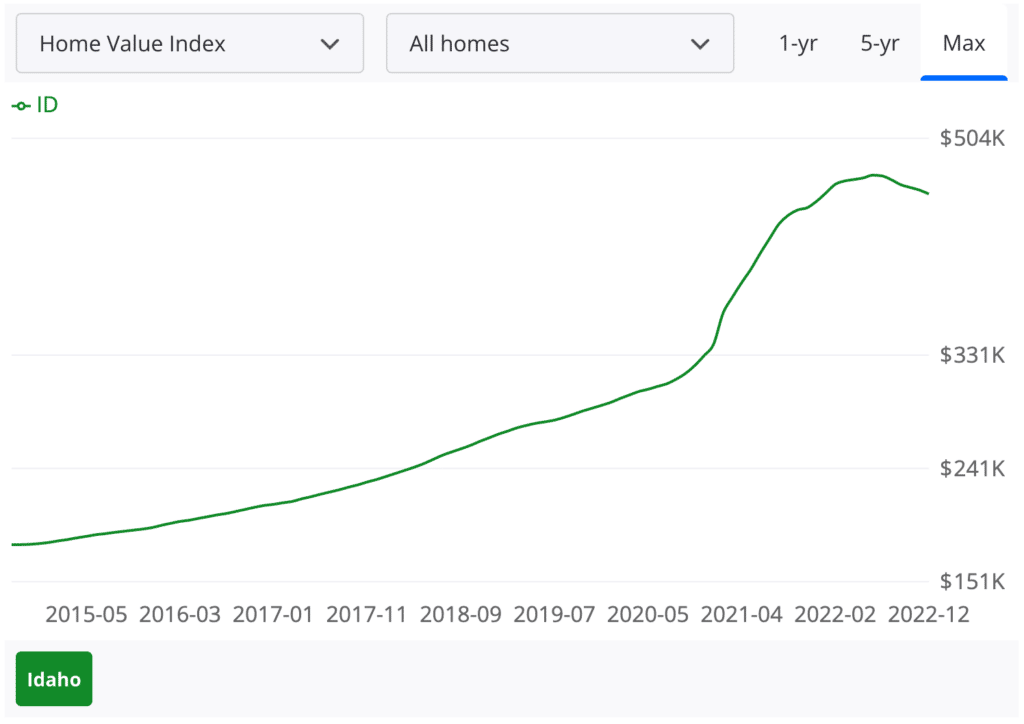 How does the Idaho Housing Market Compare to the National Housing Market?
The Idaho housing market has been following similar trends to the ones we have observed nationwide. Idaho home prices have skyrocketed following the pandemic due to an influx from remote workers, many of them coming from high-price areas such as the Bay Area or major East Coast cities, attracted by the relatively affordable property prices. However, the tides are turning following the rapidly increasing interest rates.
Starting in March 2022, the Federal Bank has initiated an aggressive interest rate hiking policy as its main mean of action against the galloping inflation, which stands at a forty-year high. Mortgage rates have increased accordingly, reaching more than twice their level within a matter of months. As of December 2022, the 30-year fixed mortgage rate is hovering around 7% with little prospect of slowing down any time soon, as more interest rate increases are highly likely in the coming months.
The combination of high property prices and high interest rates has led the average monthly mortgage payment to be significantly higher than in previous years, and many homebuyers have found themselves pushed to the sidelines, leading the Idaho housing market to cool down considerably following an all-time high in the summer of 2022. Although a seasonal cycle is typical in Idaho, as in most of the country, it should be noted that property prices are increasing at a significantly more moderate pace.
Nevertheless, the continuous attractivity of the state is causing Idaho home prices to remain relatively high, although the inventory is slowly increasing, not due to a sudden influx of new listings on the market – there were actually 33.4% fewer new listings in October 2022 than in October 2021 – but due to fewer transactions and longer time spent on the market.
Idaho Metro Areas with the Hottest Housing Markets
Idaho is a primarily rural state whose economy relies on agriculture (particularly its potato crops, which account for one-third of the nationwide yield) along with manufacturing, mining, forestry, and tourism. The United States Forest Service holds about 38% of Idaho's land, the highest proportion of any state. Idaho is the ninth-fastest growing state in the country. Here are the hottest metro areas in Idaho in terms of volume:
Boise
Boise is the capital city of Idaho and the state's most populous city, with a population of 235,684, according to the 2020 US Census. Boise began as a mining center, along with farming and timber as its primary forms of industry. The economy has been diversified, with the State government as one of the city's main employers since Boise is the capital of Idaho. High technology industries are one of the fastest-growing sectors. Boise housing market was one of the fastest-growing during the pandemic but was also one of the first ones to taper out, with Boise median home prices decreasing by 3.8% between October 2022 and October 2021 to settle at $475,000. Nevertheless, the housing market in Boise remains relatively competitive, with listed properties receiving two offers on average. 13.6% of homes sell above the asking price.
Nampa
Nampa is Idaho's third-largest city, with a population of 100,200 at the time of the 2020 Census. It is part of the Boise metropolitan area and has a strong economic agricultural base, particularly sweet corn seed, livestock, dairy, and alfalfa. Nampa also has a substantial manufacturing base, producing goods such as furniture, boxes, wood products, computer chips, and a growing technology sector. The Nampa housing market is not very competitive: listed properties receive one offer on average, and 12.1% of homes sold above the asking price in October 2022. Nampa home prices remain stable, with a median sale price of $422,990, 0.7% above the median sale price the year prior.
Meridian
Meridian is the second-largest city in Idaho, with a population of 117,635, according to the 2020 US Census. Meridian is considered the state's fastest-growing city and among the fastest-growing cities in the United States. The largest industries in Meridian are Retail Trade, Health Care & Social Assistance, and Educational Services. The Meridian housing market may not be very competitive, with listed properties receiving one offer on average and 13.5% of properties selling above the asking price, but home prices are still increasing. The median sale price in Meridian was $554,000 in October 2022, representing a 2.1% increase since October 2021.
Higher Mortgage Rates Could Slow Down the Price Growth in Idaho
he Idaho housing market was one of the fastest growing during the pandemic, but Idaho house prices are showing the effect of the combination of high interest rates and high home prices. With their buying power severely eroded, house hunters are taking a step back, and the number of transactions is dropping rapidly.
After two years of head-spinning growth, housing prices in Idaho – in Boise in particular - were among the first to drop. Local markets are showing signs of correction, particularly in "bubbly" markets where the housing inventory is growing rapidly. Nevertheless, Idaho remains one of the states that continues to attract more newcomers than residents leaving the state. Although prices are increasing at a moderate pace, with Idaho home prices growing in the single digits and declining modestly, it is unlikely that the Idaho housing market will crash in 2023.
Key Market Stats for the Idaho Housing Market
According to October 2022 data, some of the key market stats for the Idaho housing market appear as follows:
Median home price: $481,300 – a 3.3% Y.o.Y. increase.
Home sales: 1,834 – 35.2% less than a year ago.
Months supply of inventory: 3 – compared to 1 in October 2022.
Mortgage rates as of December 1st, 2022: 6.49%
Idaho Historic Price Changes and Affordability
Idaho home prices are reached heights never seen before since the COVID-19 pandemic. The median home price has increased from $299,200 in October 2019 to $481,300 in October 2022, with a peak of $529,300 in May 2022, representing a 60.86% increase in 36 months.
However, the combination of high property prices, high interest rates, and an uncertain future is taking a toll on the Idaho housing market. Property price increases have slowed down to single digits or slightly decline as the average income cannot keep up with Idaho house prices' staggering growth.
Key Takeaways
The Idaho housing market was one of the fastest growing in the country during the pandemic, attracting out-of-state workers as remote work became widespread, leading to head-spinning property price increases.

Idaho home prices are accusing the toll of a double threat of high property prices and high interest rates following the Fed's aggressive interest hike policy. The housing market in Boise was one of the first to show a year-over-year decline.

Nevertheless, Idaho home prices remain high as the inventory is still constrained.
2023 Idaho Housing Market FAQ