South Dakota Housing Market 2023 Report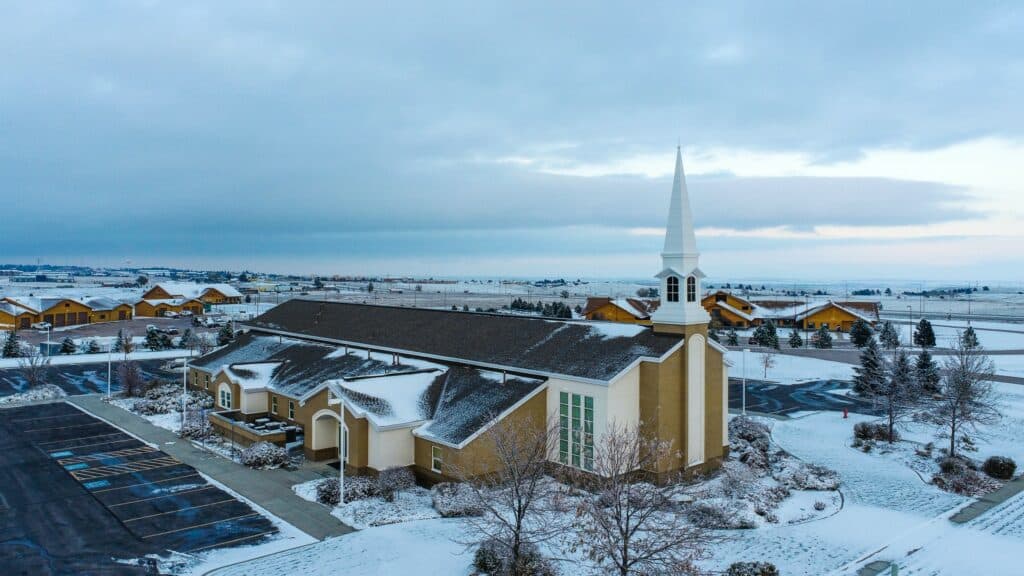 What is the South Dakota Housing Market Like?
The South Dakota housing market has experienced tremendous growth in the past ten years, with the COVID-19 pandemic marking a significant increase in South Dakota housing prices. Property prices in rural markets, in particular, have increased faster than ever before as remote work became a reality for many employees, allowing them to move further away from their place of employment into more affordable locations with plenty of space to roam for the entire family. The pressure from newcomers, many of them coming from other more expensive states, into these small rural communities with an extremely limited inventory and a typically steady demand for housing has caused property prices to increase by 20% to 25% within a year, according to local experts.
South Dakota home prices have traditionally been sitting well below the national average, but the sharp increase in demand during the pandemic has caused local real estate prices to catch up. However, the skyrocketing housing costs have significantly slowed down since the Federal Reserve Bank initiated an aggressive interest rate hiking policy as its principal means to fight back against inflation, which stands at a forty-year high. Nevertheless, the South Dakota housing market remains highly competitive, and property prices are still climbing in the double digits.
The median house value in South Dakota was evaluated at $306,633, representing a 14.4% increase compared to the year before, according to data collected throughout October 2022, the latest available at the time of writing. Properties are still flying off the market, with a median number of days on the market of 13 before the listing went pending. Multiple offer situations are frequent, and 37.9% of listings sell above the asking price. Housing supply is also a concern, with only three months of inventory, making South Dakota a sellers' market.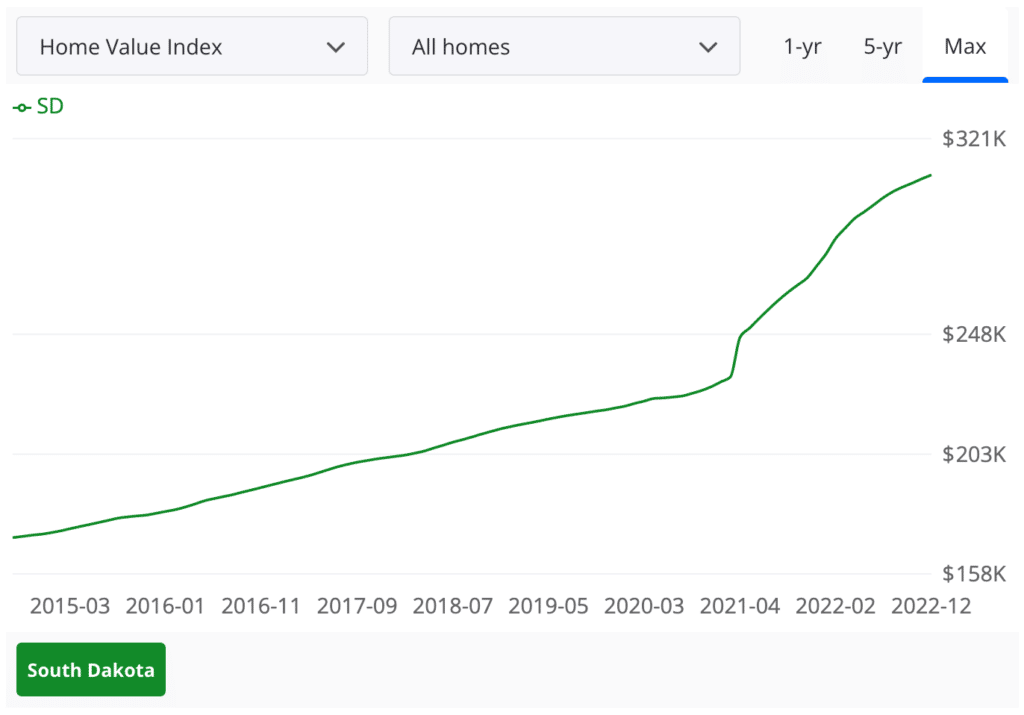 How does the South Dakota Housing Market Compare to the National Housing Market?
South Dakota home prices have traditionally been standing well below the national average, with homes below $100,000 being common, especially in more rural areas. However, since the COVID-19 pandemic, Americans have been flocking to lower-density areas as widespread remote work allowed them to move away from their place of employment. South Dakota ranked No. 2 on the list of top moving destinations in 2021, according to the 2021 National Movers Study by United Van Lines, a national household goods mover. This is not a new trend, although the pandemic increased households' mobility. In past years, South Dakota ranked fourth in 2020, eighth in 2019, ninth in 2018, and fifth in 2017. Therefore, the state has been facing extreme pressure on its local housing market.
Therefore, South Dakota home prices have increased very rapidly in the past decade and are still following an upward trajectory despite the recent interest rate hikes. Home prices in South Dakota were up 11.8% year-over-year in October, indicating that the limited inventory is still not keeping up with the demand. Despite the double-digit growth we have observed in recent years, South Dakota house prices remain relatively affordable compared to the national level, particularly for out-of-state newcomers who may benefit from a high salary from remote work or who recently sold a property in a more expensive state.
Nevertheless, the South Dakota housing market is cooling down as interest rates have doubled since the Federal Reserve Bank proceeded with major interest rate increases, and the number of homes sold fell 27.3%. In comparison, the number of homes for sale fell 13.6%.
South Dakota Metro Areas with the Hottest Housing Markets
South Dakota is not known for its exciting urban activity, and for good reasons. South Dakota is the seventeenth largest by area but the 5th least populous and the 5th least densely populated state in the country, with most of the territory being used for farmland and protected reservations occupied by Lakota and Dakota Sioux Native American tribes. Historically dominated by an agricultural economy and a rural lifestyle, South Dakota has recently sought to diversify its economy in other areas to both attract and retain residents, with the service industry (including retail, finance, and health care industries) and government spending on defense becoming two of the main economic drivers. Here are South Dakota hottest housing markets in terms of volume.
Sioux Falls
Rapid City
Aberdeen
Sioux Falls
Sioux Falls is the largest city in South Dakota, with a population of 192,517 according to the 2020 US Census, although 2022 estimates place the population at 202,600. The Sioux Falls metro area accounts for more than 30% of the state's population. Sioux Falls is home to several financial companies attracted by the state's lack of income tax, including Wells Fargo and Citigroup. In addition, the manufacturing and food processing sector, historically the most important economic drivers in the region, remains an essential component of Sioux Falls' economy. In October 2022, Sioux Falls home prices were up 11.5% compared to last year, selling for a median price of $290,000, with 37.7% of listed properties selling above the asking price. Homes typically go pending after 42 days on the market.
Rapid City
Rapid City is the second most populous city in South Dakota, with a population of 74,703, according to the 2020 US Census. Rapid City was originally a mining town for sand and gravel, as well as the raw materials for lime and Portland cement (including chemical-grade limestone, taconite iron ore, and gypsum), which continue to be a significant part of its economy. In addition, Rapid City's economy is driven by government services, including local, state, and federal, due to the presence of the Ellsworth Air Force Base, the Army National Guard, the National Park Service, the US Forest Service, and the Indian Health Service. In October 2022, Rapid City home prices were up 19.1% compared to last year, selling for a median price of $319,000 after 51 days on the market.
Aberdeen
Aberdeen's population was 28,495 in the 2020 US Census, making it the third most populous city in the state. It is primarily a college town, being home to both Northern State University and Presentation College. According to data collected the first week of December 2022, single-family homes in Aberdeen sold on average for $230,000 and spent 52 days on the market.
Key Market Stats for the South Dakota Housing Market
According to October 2022 data, some of the key market stats for the Arkansas housing market appear as follows:
Median home price: $306,633 – a 14.4% Y.o.Y. increase.
Home sales: 2,607
Months supply of inventory: 3
Mortgage rates as of December 1st, 2022: 6.49%
South Dakota Historic Price Changes and Affordability
Housing affordability has been a major concern nationwide as home prices skyrocketed to new heights during the pandemic due to a combination of historically low interest rates and high demand due to remote workers' newfound mobility, associated with a very low inventory. However, the situation has been particularly dire in South Dakota, where the housing market was not prepared to integrate waves of out-of-state newcomers, many of them with significantly higher buying power than the locals. The median home value has increased from $220,527 in October 2019 to $306,633 in October 2022, representing a 39.04% increase in 36 months.
In 2021, the average per capita personal income in South Dakota was $31,415, with 12.4% of the population living below the poverty line. Therefore, many locals have found themselves priced out of the market, and the situation is likely to become more difficult as the cost of borrowing money increases following the interest hikes initiated by the Fed. Therefore, it is expected that South Dakota home prices will slow their upward trajectory.
Key Takeaways
The South Dakota housing market is still a sellers' market despite the recent increase in interest rates, with South Dakota home prices still increasing in the double digits on a year-over-year comparison at the time of writing.

Much of the South Dakota housing market growth in recent years, particularly since the COVID-19 pandemic, has been fueled by the influx of new residents coming from out of the state, lured by the low unemployment rate, business-friendly climate, and the affordable cost of living.

However, most of the South Dakota housing market is located in rural communities of a few hundred residents and was not prepared for a sharp increase in demand. Therefore, the inventory remains extremely tight despite a lower number of transactions and the decrease in demand, keeping South Dakota home prices high and increasing.
2023 South Dakota Housing Market FAQ