Pennsylvania Housing Market 2023 Report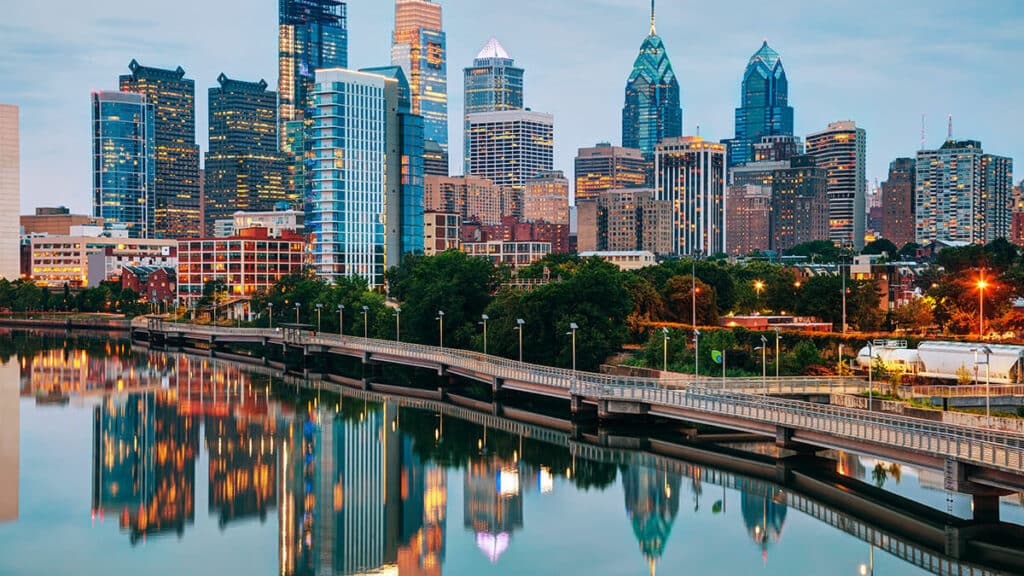 What's the Pennsylvania Housing Market Like?
The Pennsylvania Real Estate market has slowed down in the past 4 months. The Fed's aggressive monetary policies to curve inflation have directly impacted the Pennsylvania housing market as we see the decrease in month-over-month home prices and sales volume.
Sales volume has dropped a bit year over year. In Sept 2022, there were 12,057 homes sold in the state of Pennsylvania, a 10% decrease from the previous month of Aug 2022, when there were 13,405 homes sold. Comparing year-over-year, we saw an 11.8% decrease in sales from Sept 2021, when there were 13,677 home sales.
The number of sales over the last three years peaked at 15,709 in June 2021; compared to Sept 2022's numbers, we are down 23.2% in the number of homes sold from the peak of the last three years. Relatively speaking, this is a moderate drop in sales, considering the impact of the pandemic and rising interest rates.
As of Sept 2022, the median price for a home in the state was $269,000, down 9.4% from the peak of $297,000 in June 2022. It is clear that the recent steep rise in mortgage rates has curved sales activity and shrunk affordability, and the result has been a drop in home prices and sales.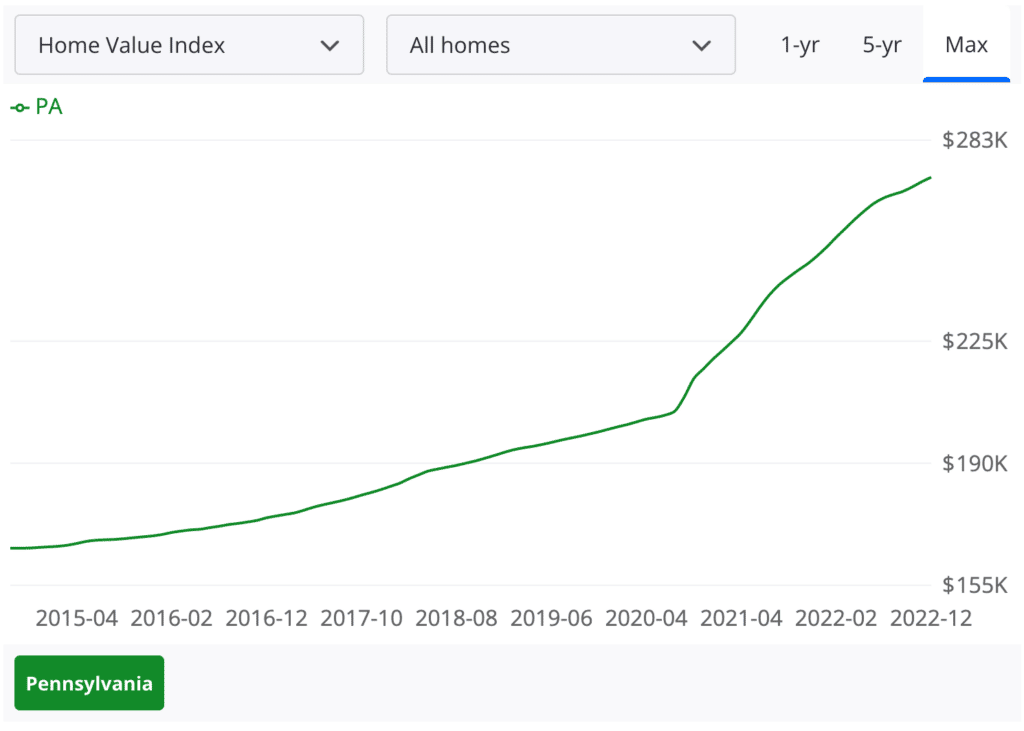 How Does The Pennsylvania Housing Market Compare to the National Housing Market?
Pennsylvania is located in one of 238 markets in the US with a very high likelihood of experiencing a significant drop in prices in the next 12-24 months. In that regard, Pennsylvania is a similar market to many others.
Pennsylvania does have some advantages over other states and metro areas. The median price of a home is $269,000, which is below the national average of $403,000 as of Sept 2022. Areas where housing is moderately priced tend to do better in high mortgage rate environments compared to high-cost areas. A 3% increase in rate on a $250,000 mortgage is $457 compared to the same 3% increase on a $550,000 mortgage which is $1,010 higher.
Although it seems that the entire nation is headed for a housing recession in late 2022 and through 2023, Pennsylvania's moderate housing prices are likely to attract buyers from other higher prices areas.
Pennsylvania Metro Areas With the Hottest Housing Markets
The state of Pennsylvania is located in the Northeast, where most of the hottest zip codes in realtor.com's list of the hottest zip codes in America are located. Zip code 18017 is in Bethlehem so we will start with this city as the #1 spot in Pennsylvania. Here is the full list of the top 5 hottest markets in Pennsylvania.
The top areas in the number of sales are:
Bethlehem
Allentown
Erie
Adamstown
Reading
Bethlehem
Bethlehem is located in Eastern Pennsylvania along the Lehigh River and is considered part of the Lehigh Valley Metro area, the third most populous metro area in the state.
Bethlehem home prices have been very steady over years without significant peaks and valleys. For 2022, September's median price was $283,000, up a modest 6.8 % over Sept 2021.
In Sept of 2022, there were 142 homes sold in Bethlehem, a 12.8 % drop in sales from the same period in 2021. However, this town is different from many other areas in the month-over-month increase in sales which happens to be 33.8% higher than in Aug 2022.
The median days on the market is 8, which indicates a seller's market. Compared to Sept 2021, the median days on the market are the same as last year and the same as last month.
Allentown
Allentown is currently a competitive market. In Sept 2022, 116 homes were sold with a median price of $220,000. The median home price in Allentown is up 15.2% from Sept of 2021, while the number of homes sold was down 12.8% compared to the same period.
The median days on the market is 13, and it's down 1% compared to last year. Allentown is not having a significant drop in sales activity because of the affordability of the housing supply.
Also worthy of notice is the fact that Allentown has had a steady rate of appreciation since the beginning of the year. In December of 2021, the median price was $175,000, compared to Sept 2022 median price of $220,000 homes are up 25.7%, which is an indicator of the hotness factor of this area.
Erie
Erie is the largest city in Northwestern Pennsylvania and the county seat of Erie County. The median home price in Sept 2022 was $130,000, which is very affordable compared to the national median price. The median price is 18.2% from Sept of 2021 and 25% from January 2022.
Erie is considered a balanced market right now. In Sept 2022, 140 homes were sold, which is 45.8% over Sept of 2021. Interestingly enough, sales are up 122% from January 2022.
Median days on the market in Sept f0 2022 were 38, which is 38.7% less than Sept of 2021 and 37.7% less than Jan 2022. Whereas a large portion of the nation is experiencing a slowdown in sales, Erie is looking up!
Adamstown
Adamstown is a small town of approximately 1,900 residents. The town was founded in 1761, 15 years before the nation gained its independence.
As of Sept 2022, the median price of homes in Adamstown was $575,000, up 101 percent from 2021. That is not a typo! Median home prices in this town more than doubled in the past 12 months. It's also worth noting that the median price is up 120% from June 2022.
The number of home sales in Adamstown was a mere 5, up 25% from last year and down 50% from June of this year. Median days on the market, as well as the number of sales, is too small to have a statistically significant result that can be used for analysis.
Reading
Reading is located in the Southeast portion of the state and is the county seat of Berks County.
The median home price in Reading was $200,000 in Sept 2022, up 9.9% from Sept 2021 and 29% from January 2022.
188 homes sold in Sept 2022, up just 1% from Sept 2021 but sales were up 31.5% from January 2022. Reading home sales are trending in the positive direction, which is the opposite of many areas of the country where sales are actually down in 2022 month over month.
Higher Mortgage Rates Could Slow Price Growth in Pennsylvania
How will interest rates affect the Pennsylvania housing market? We can see that home sales in the state have slowed down from 2021. We also see monthly sales have declined steadily every month in 2022. As mortgage rates continue to climb, we can anticipate that sales will continue to decline overall in the state, although some areas, as we have seen, will be less impacted than others.
As of mid-October 2022, the 30-year fixed rate mortgage is above 7% on average. That represents a 133% increase in mortgage rates in less than nine months. The Feds are on a "no holds barred" approach to curve inflation, and interest rate hikes have become the norm over the last several Fed meetings. Unfortunately, it seems that rate hikes are not done.. We anticipate at least another 2 or 3 rate increases before the year ends.
Key Market Stats for the Pennsylvania Housing Market:
As of the latest compiled housing report with data through Sept 2022.
Median home price $269,000 - up 4.1% from 2021
Existing home sales: 12,057 - an 11.9% drop from 2021
Months supply of inventory: 2- unchanged from 2021
Mortgage rates as of Oct 13th are at 7.2%
Pennsylvania Historic price changes & affordability
The Pennsylvania housing market has seen moderate appreciation for years. Over the last 3 years, homeowners saw their homes appreciate by 25% in 36 months which is moderate compared to many other states in the nation.
The steep rise in mortgage rates has shrunk affordability across the nation. Fortunately, the Pennsylvania median home price is well below the national median home price. Affordable homes tend to retain their value much better than high-cost areas.
Key Takeaways
The housing market is clearly shifting, and Pennsylvania housing market predictions for 2022 and 2023 are a bit more confident now than they were just a few months ago. Pennsylvania has not seen break-neck appreciation; therefore, it is likely that prices will hold relatively steady with only modest declines.
Due to the relatively affordable supply of homes available with the median price in the state at well below the national median price, Pennsylvania will be more resilient to higher rates.

Real Estate markets are highly local, and even within the same state, there will be areas that are projected to be hit hard by the market shift, and others will fare better.

Timing the market for buying or selling is a big gamble. If it makes sense for you to buy, go ahead and buy a home. For sellers, if you have to sell in the next 12-24 months, you may want to consider doing it sooner than later, especially if you are in an area that may be considered overvalued and has a high potential for house prices to drop.
2023 Pennsylvania Housing Market FAQ