Wisconsin Housing Market 2023 Report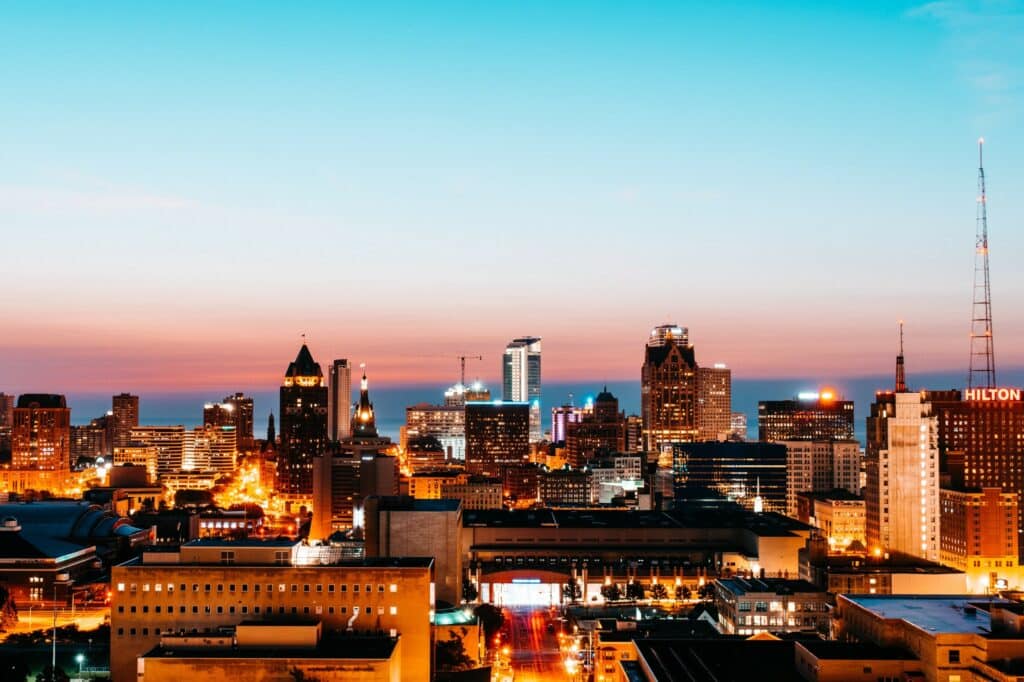 What's the Wisconsin Housing Market Like?
Home prices in Wisconsin have appreciated 61.2% higher than the national level from last year. Looking back three years at the median price in October 2019 compared to October 2022, prices have increased 32.4% in Wisconsin VS 35.8% nationwide.
As of October 2022, the median price for a home in the state was $266,000, which is up 7.9% above last year's median price. Comparing prices over the last three years, we can see they have decreased -7.6% from the peak of $287,900 in Jun-2022.
Sales volume has also decreased recently. In October 2022, there were 5,865 homes sold in the state of Wisconsin, a decrease of -16.6% from the previous month.
Comparing year-over-year, we saw a decrease of -27.7% in sales from October 2021, when there were 8,108 home sales.
The number of sales peaked at 9,376 sales in Jun-2021; compared to October 2022's numbers, we are down -37.4% in the number of homes sold from the height of sales activity of the last three years.
It is clear that the recent steep rise in mortgage rates has curved sales activity and shrunk affordability, and the result has been a drop in home prices in Wisconsin.
How Does The Wisconsin Housing Market Compare to the National Housing Market?
The Wisconsin housing market is similar to other markets because supply and demand drive housing prices. Mortgage rates also similarly impact Wisconsin as the rest of the nation.
Wisconsin's home prices and sales numbers have begun to slow down along with the rest of the country. Differences in the regional economy of some of Wisconsin's metro areas make those markets more vulnerable and others more resilient to the current economics.
The current median price of homes in Wisconsin is $266,000 compared to the national median sales price of $397,549. Over the past three years, the median price of homes in Wisconsin has increased by 32.4% compared to the national average of 35.7%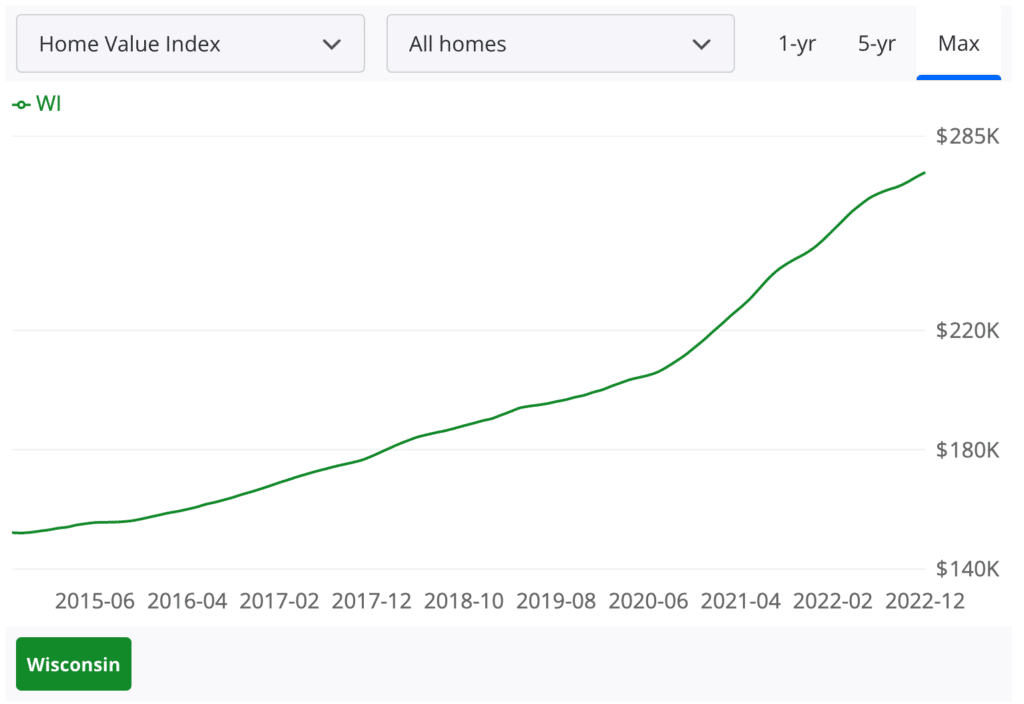 Wisconsin Metro Areas With The Hottest Housing Markets
The state of Wisconsin has seen significant growth in housing demand in recent years, consequently, prices had also gone up at a good pace. There are some areas within the state that have outperformed others though. We will look at the cities with the highest increase in the median price year over year.
The top markets with the highest appreciation rate:
Verona
Ashland
Mukwonago
Fox Crossing
Two Rivers
Verona
Verona in Dane County is a suburb of Madison with a population of 14,030 as of the 2020 census. Many families and young professionals live there. Verona has a top-notch educational system, an abundance of employment options, and beautiful neighborhoods for homes. Overall, it is an accepting community with a charming downtown area packed with restaurants and numerous local supermarkets.
Verona's home prices have been doing quite well over the last few years; in fact, Verona topped the list of cities in Wisconsin with the largest increase in prices in 2022 with an increase of 44.0% from the prior year. For 2022, October's median price was $478,867.
In October of 2022, there were 24 homes sold in Verona, up -14.6% from the same period in 2021.
The median days on the market in October 2022 was 35, which indicates a balanced market by today's standards. Compared to October 2021, the median days on the market is down -14.6% compared to October 2022.
Mukwonago
Mukwonago is a village in Wisconsin with a population of 8,262 as of the 2020 census. It is located within the Town of Mukwonago, with a small portion of the Town of East Troy. Mukwonago has a cold winter and hot summer humid continental climates. The majority of people there own their homes, and it gives residents a dense suburban feel. Mukwonago has a large population of families and young professionals, and its citizens are generally conservative.
Mukwonago is considered a somewhat competitive market right now. In Oct 2022, there were 23 homes sold which is 15.0% compared to the same period in 2021.
The median number of days on the market for Oct 2022 was 42 days which is down -2.3% from Oct 2022 of 2021.
Fox Crossing
Fox Crossing village in Winnebago County was incorporated from the former Town of Menasha in 2016. Its population was 18,974, according to the 2020 census. It is located in the Fox Cities region and the thirds largest metropolitan area in Wisconsin. This village features more than 100 miles of walking, hiking, and biking trails.
The real estate market in Fox Crossing is considered somewhat competitive. There were 20 homes sold in October 2022, with a median price of $342,550 .The median price in Fox Crossing increased 36.5% from October 2021, while the number of homes sold was down -23.1% compared to the same period last year.
The median number of days on the market for October 2022 was 50 days which is up 4.2% to the same month in 2021.
Two Rivers
It is a city in Manitowoc County located on the shores of Lake Michigan. Two Rivers lies within the humid continental climate zone and gives the city more moderate temperatures. The population was 11,712 as of the 2020 census. This city is popular as the birthplace of the ice cream sundae. For outdoor recreation, Point Beach State Forest and Park is a popular destination that offers hiking, biking, and skiing, and Lake Michigan is for swimming in summer.
Two Rivers is currently a very competitive market. In October 2022, 26 homes were sold with a median price of $138,500. The median price in Two Rivers saw an increase of 36.5% over October 2021, while the number of sales was down -7.1% compared to the same month in 2021.
The median number of days on the market for October 2022 was 38, which is an increase of 36.5% compared to the same month last year.
Higher Mortgage Rates Could Slow Price Growth in Wisconsin
How will interest rates affect the Wisconsin housing market? We are already experiencing the impact of rising interest rates across the nation. Price growth in Wisconsin has been flattening or on a slight decline for several months in 2022. However, Wisconsin is such a high-demand destination that it may very well fare better than many other areas of the country.
As of mid-October 2022, the 30-year fixed rate mortgage is above 7% on average. That represents a 133% increase in mortgage rates in less than nine months. The Feds are on a "no holds barred" approach to curve inflation, and interest rate hikes have become the norm over the last several Fed meetings. Unfortunately, it seems that rate hikes are not done. We anticipate at least another rate increase before the year ends.
Key Market Stats for the Wisconsin Housing Market:
As of the latest compiled housing report for October 2022.
| | | | |
| --- | --- | --- | --- |
| | Current Value | Last Year | Change YOY |
| Median Sales Price | $266,000 | $246,600 | up by 7.9% |
| Number of sales | 5,865 | 8,108 | down by -27.7% |
| Median Days On The Market | 47 | 50 | down by -7.6% |
| Number of homes available | 19,580 | 25,876 | down by -24.3% |
| Months supply of inventory | 2 | 2 | no change |
| % of homes sold above list | 41.6% | 45.6% | down by -8.8% |
| % of home with price drops | 23.4% | 18.2% | Up by 28.6% |
| New Listings | 5465 | 7356 | down by -25.7% |
Wisconsin Historic price changes & affordability
The Wisconsin housing market has seen moderate appreciation for years. The last three years have been favorable to homeowners as they saw their homes appreciate by 32.4% in 36 months.
The rise in home prices and mortgage rates has shrunk affordability to record lows in the state. A 32.4% spike in home prices and a sharp increase in mortgage rates in the last 12 months does not spell good news for the Wisconsin Real Estate market.
We know that the average person's wages do not increase by 32.4% in three years, so we can see why affordability is a problem. The gap between rising home prices and wages keeps getting wider.
Key Takeaways
The housing market is shifting, and Wisconsin housing market predictions for the short term seem to point to a declining market along with many areas of the US. Due to Wisconsin's very moderate price growth, it is unlikely that the state will have a significant home price correction any time soon.

The next 18 to 24 months will be an adjustment, especially for home sellers and Real Estate professionals. Adjusting to a normalized market that is not heavily skewed in favor of sellers will take time.

Real Estate markets are highly local and even within the same state, there will be areas projected to be hit hard by the market shift, and others will fare better.

Timing the market for buying or selling is a big gamble. If it makes sense for you to buy, go ahead and buy a home. For sellers, if you have to sell in the next 12-24 months, you may want to consider doing it sooner than later, especially if you are in an area that may be considered overvalued and has a high potential for house prices to drop.
2023 Wisconsin Housing Market FAQ