Washington Housing Market 2023 Report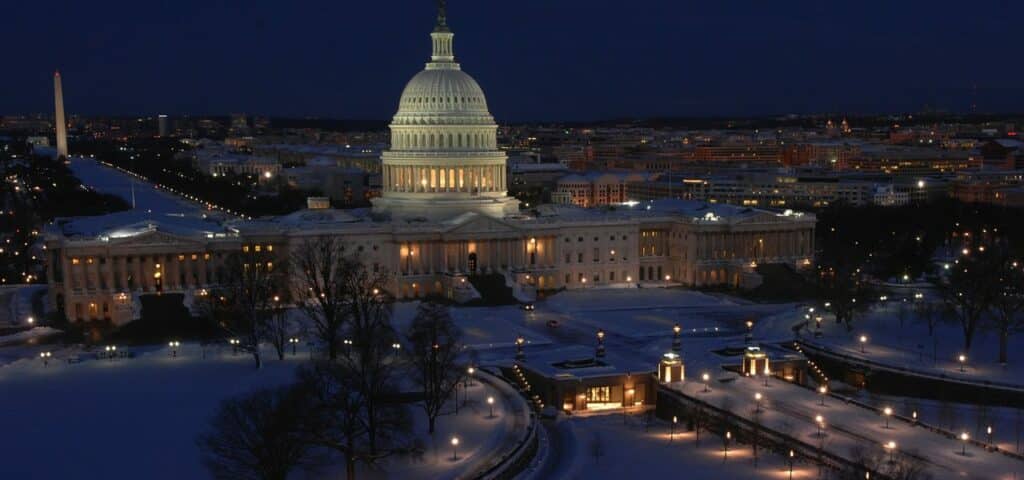 What is the Washington Housing Market Like?
Following trends observed in most of the country, the past two years have been a wild ride for the Washington housing market.
According to data collected in September 2022, the median Washington house prices stand at $590,300, representing a 6% increase compared to a year earlier. However, the aggressive interest rate hike policy initiated by the Federal Reserve Bank in March 2022 to fight back against the forty-year high inflation is showing its effects on the housing market. Since peaking at $654,100 in May 2022, median sale prices have slowly been declining, although they remain higher than a year prior.
The declining number of sales in volume is another indicator that the market is cooling down. 9,893 properties sold in September 2022, 26.7% less than a year ago, and this indicator has been dwindling since June 2022. Besides, properties are staying on the market longer, with the average days on the market climbing to 25 on average, up from 8 DoM during the summer of 2022.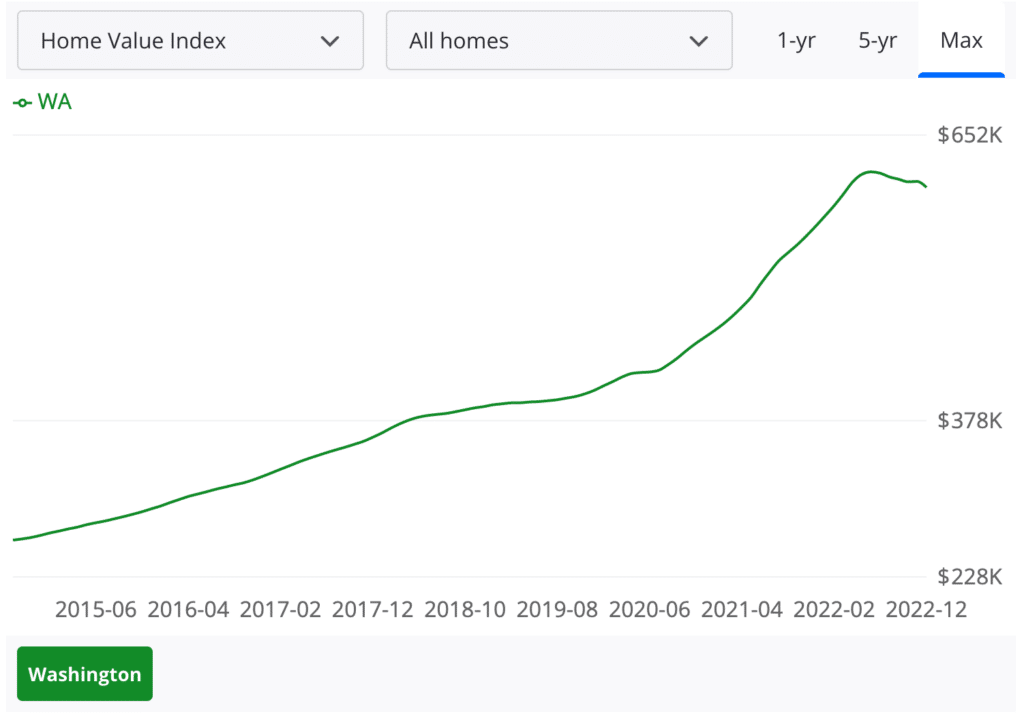 How Does the Washington Housing Market Compare to the National Housing Market?
Like the national housing market, the Washington housing market is showing the effects of the sharp increase in interest rates that significantly affect home hunters' buying power.
Washington housing prices have always been higher than the national average, making the current situation even more challenging, particularly for first-time home buyers who do not benefit from the equity built in the sale of another property.
Nevertheless, Washington remains one of the most affordable states on the West coast compared to its neighbors to the South, particularly California and Oregon. It is actually attracting some of the former residents of these states who often work remotely.
Washington Metropolitan Areas with the Hottest Housing Markets
Washington state is a unique mix of untouched wilderness and dense urban areas, many of them affluent with tech-oriented companies. Here are the top real estate markets in Washington, according to realtor.com.
Spokane
Seattle
Vancouver
Tacoma
Lacey
Spokane
Located in eastern Washington, along the Spokane River, adjacent to the Selkirk Mountains, and west of the Rocky Mountain foothills, less than a hundred miles from the Canadian border, Spokane is the largest city of Spokane county with 228,989 residents. Spokane's housing market is highly competitive, with properties receiving, on average, two offers and staying a mere 18 days on the market. The median sale price is $380,000, with 32.6% of properties selling above the asking price. Seattle homebuyers searched to move into Spokane more than any other metropolitan area.
Seattle
With a 2020 population of 737,015, Seattle is the largest city in both the state of Washington and the Pacific Northwest. Despite being one of the highest-priced cities in the state, it is also very competitive, with properties receiving two offers on average and selling in around 17 days. The median property sale price is $819,475, 5.7% above the median sale price a year ago, and 21.9% of properties sell above the asking price. Across the nation, 5% of homebuyers searched to move into Seattle from outside metros.
Vancouver
Vancouver, Washington, is the fourth-largest city in Washington state, with a population of 190,915. Located on the north bank of the Columbia River, which marks the border with Oregon, it is often assimilated into a suburb of Portland. Vancouver properties attract numerous homebuyers commuting to nearby Portland and receive, on average, two offers per listing. Properties sell for a median sell price of $467,900 after 22 days on the market, with 25.3% selling above the asking price.
Tacoma
Tacoma is the second-largest city in the Puget Sound area and the third-largest in the state, with 219,346 residents. It boasts a very competitive market, where properties receive two offers per listing on average. Properties sell for a median sale price of $475,000 after 23 days on the market. 26.4% of houses sold above the asking price, and Tacoma is a significant magnet for those looking to relocate since 5% of homebuyers searched to move into Tacoma from outside metropolitan areas nationwide.
Lacey
Compared to the other cities on this list, Lacey, WA, is a relatively small town with a population of 53,526. Nevertheless, this suburb of Olympia has a very competitive market, and properties for sale receive two offers on average. They sell for a median sale price of $475,000 after staying approximately 24 days on the market. 32.1% of properties sell above the asking price. Despite its small size, Lacey is definitely on the radar of those looking to relocate since 5% of homebuyers searched to move into Lacey from outside metros across the country.
Higher Mortgage Rates Could Slow Price Growth in Washington
Overall, the Washington housing market remains very competitive, but the consecutive interest rate hikes have taken a toll on the buying power of house hunters. In consequence, Washington home prices are bound to decline, especially since the average home in Washington is more expensive than the national average.
As of November 2022, mortgage rates are hovering around 7%, more than twice the average mortgage rate a year prior. With interest rates poised to continue their upward trajectory under the inflation rate is under control, it is unlikely that mortgage rates will decline in the mid to near future, and home buyers will need to contend with a combination of high interest rates and high property prices, especially since salaries are not keeping up with the inflation.
Key Market Stats for the Washington Housing Market
As of the latest compiled housing report with data through Sept 2022
Median home price: $590,300 – 6% up from September 2021
Home sales: 9893 – 26.7% less than in September 2021
Months supply of inventory: 2 – up from 0 in September 2021
Mortgage rates as of November 3rd ,2022: 6.95%
Washington Historic Price Changes and Affordability
The Washington housing market has improved these past two years, although not nearly as fast as in other parts of the country, where more affordable property prices gave more leeway to potential home buyers. Between September 2019 and September 2022, Washington home prices climbed from $419,100 to $590,300, with a market peak in May 2022 at $654,100, representing a 40.85% increase in 36 months.
As mortgage rates continue to increase, Washington housing prices, which were already sitting over the national average before the pandemic, have become increasingly inaccessible. Therefore, as the demand shrinks, property prices are expected to correct themselves, especially in higher-priced areas.
Key Takeaways
Washington house prices have significantly increased since the beginning of the pandemic, although at a slower pace than in other parts of the country owing to the already high property prices.

The housing market in Washington is starting to correct itself after a peak in late spring 2022, with fewer sales and a declining median sale price.

The inventory remains limited, keeping property prices higher than average. Despise an increase in monthly supply, the housing market in Washington remains a seller's market.
2023 Washington Housing Market FAQ