North Dakota Housing Market 2023 Report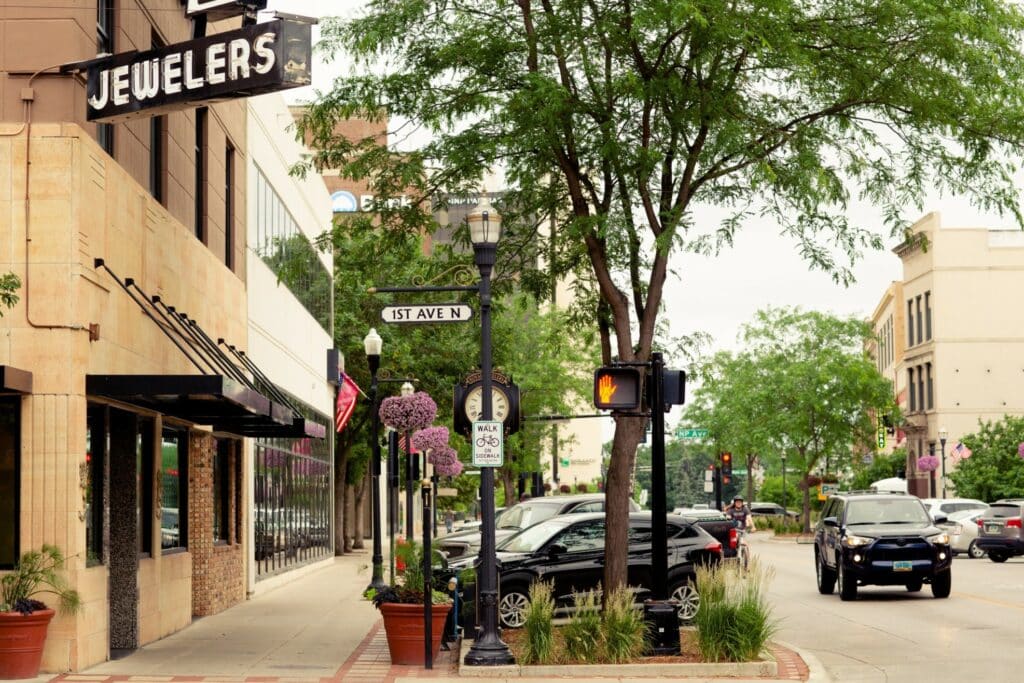 What's the North Dakota Housing Market Like?
Home prices in North Dakota have appreciated 5.3% lower than the national level from last year. Looking back three years at the median price in September 2019 compared to September 2022, prices have increased 22.4% in North Dakota VS 35.8% nationwide.
As of September 2022, the median price for a home in the state was $281,550, which is up 7.1% above last year's median price. Comparing prices over the last three years, we can see they have decreased -4.9% from the peak of $296,125 in Jun-2022.
It is clear that the recent steep rise in mortgage rates has curved sales activity and shrunk affordability, and the result has been a drop in home prices in North Dakota.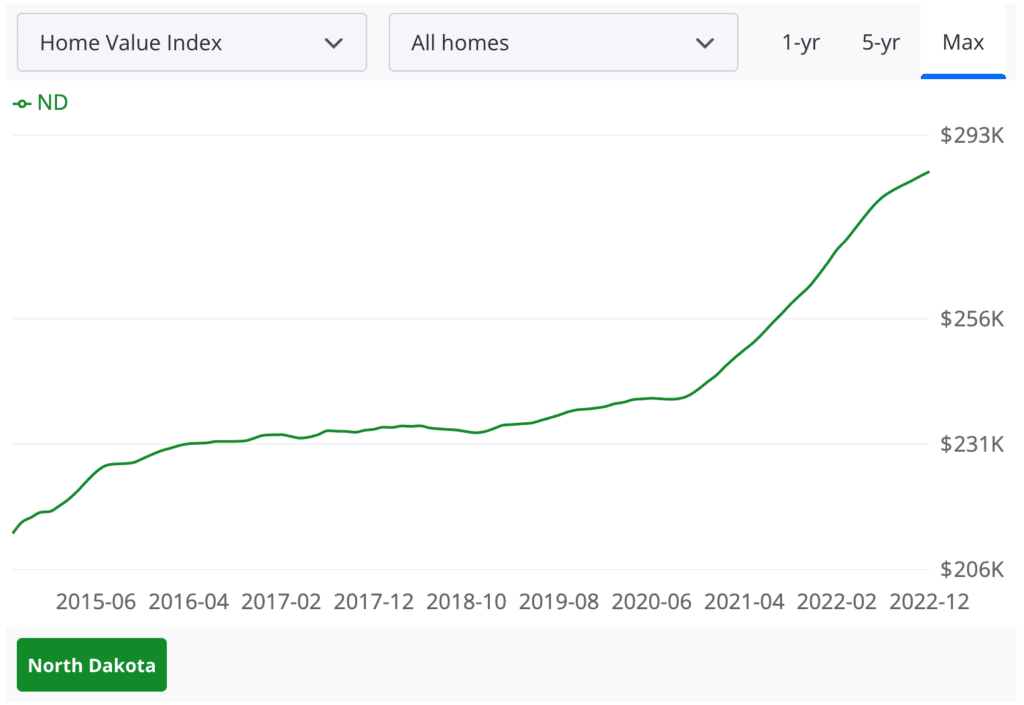 How Does The North Dakota Housing Market Compare to the National Housing Market?
The North Dakota housing market is similar to other markets because supply and demand drive housing prices. Mortgage rates also similarly impact North Dakota as the rest of the nation.
North Dakota's home prices and sales numbers have begun to slow down along with the rest of the country. Differences in the regional economy of some of North Dakota's metro areas make those markets more vulnerable and others more resilient to the current economics.
The current median price of homes in North Dakota is $281,550 compared to the national median sales price of $397,549. Over the past three years, the median price of homes in North Dakota has increased by 22.4% compared to the national average of 35.7%
North Dakota Housing Market Predictions
It's difficult to predict what will happen in a given housing market. There are too many variables to account for. Still, it makes sense to base your decisions on educated guesses about the state of a local real estate market. By keeping up with the latest trends, you can get an idea of where things are heading. Here are some North Dakota real estate predictions that seem most likely to happen soon:
Foreclosure activity will increase in North Dakota. In the last several years, fewer foreclosure filings have been recorded in the state, but the removal of moratoriums and an impending recession may result in an influx of distressed homes. Year-over-year filings are already starting to show increases, and macroeconomic headwinds may lead to more.
The North Dakota real estate market has felt the constraints of tight inventory for several years. Thanks, in large part, to a lack of available housing, prices have increased for the better part of a decade. That said, there doesn't appear to be a solution anywhere on the horizon. The pandemic has actually hurt already low inventory levels, and should continue to do so until more listings can be brought to market. Mortgage applications are starting to slow down, which will help bring more listings to market; however, a more permanent solution is needed for this state to improve its available listings.
The Federal Reserve will continue to raise interest rates in 2023 to fight inflation. This was made clear by the chairman of the federal reserve this past week after the benchmark rate was raised again, this time by fifty basis points. The Fed chairman Jerome Powell also indicated that they will continue to raise the fed funds rate throughout 2023 with no anticipated reductions until 2024.
The Fed has raised rates 4.25 points in 2022, and mortgage rates have mostly followed suit. It's hard to say how high rates will go since the Fed must strike a balance between slowing down the housing market and not stifling economic growth, but increases are all but inevitable.
Higher Mortgage Rates Could Slow Price Growth in North Dakota
How will interest rates affect the North Dakota housing market? We are already experiencing the impact of rising interest rates across the nation. Price growth in North Dakota has been flattening or on a slight decline for several months in 2022. However, North Dakota is such a high-demand destination that it may very well fare better than many other areas of the country.
As of mid-October 2022, the 30-year fixed rate mortgage is above 7% on average. That represents a 133% increase in mortgage rates in less than nine months. The Feds are on a "no holds barred" approach to curve inflation, and interest rate hikes have become the norm over the last several Fed meetings. Unfortunately, it seems that rate hikes are not done. We anticipate at least another rate increase before the year ends.
Key Market Stats for the North Dakota Housing Market:
As of the latest compiled housing report for September 2022.
| | |
| --- | --- |
| | Sept 2022 |
| Median Sales Price | $281,550 |
| Number of sales | 1,318 |
| Median Days On The Market | 48 |
| Number of homes available | 2,087 |
| Months supply of inventory | 2 |
| New listings | 1,024 |
North Dakota Historic price changes & affordability
The North Dakota housing market has seen very moderate home value appreciation over the years. The last three years have been favorable to homeowners as they saw their homes appreciate by 22.4% in 36 months.
The rise in home prices and mortgage rates has shrunk affordability in the state. A 22.4% spike in home prices and a sharp increase in mortgage rates in the last 12 months is moderate, yet it may impact values in the North Dakota Real Estate market.
We know that the average person's wages do not increase by 22.4% in three years, so we can see why affordability is a problem. The gap between rising home prices and wages keeps getting wider.
Key Takeaways
The housing market is clearly shifting, and North Dakota housing market predictions for the short term seem to point to a declining market along with many areas of the US. Due to North Dakota's slow price growth, we are not likely to see a significant drop in prices in the near future.

The next 18 to 24 months will be an adjustment, especially for home sellers and Real Estate professionals. Adjusting to a normalized market that is not heavily skewed in favor of sellers will take time.

Real Estate markets are highly local, and even within the same state, there will be areas projected to be hit hard by the market shift, and others will fare better.

Timing the market for buying or selling is a big gamble. If it makes sense for you, go ahead and buy a home. For sellers, if you have to sell in the next 12-24 months, you may want to consider doing it sooner than later, especially if you are in an area that may be considered overvalued and has a high potential for house prices to drop.
2023 North Dakota Housing Market FAQ