Virginia Housing Market 2023 Report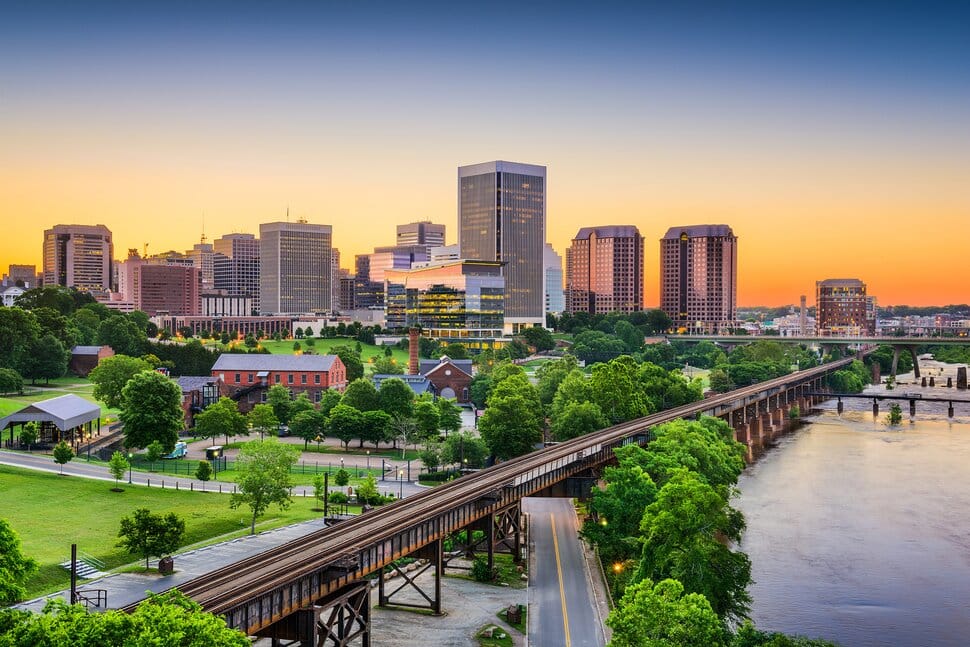 What is the Virginia Housing Market Like?
It has been a rollercoaster ride for the housing market in Virginia over the past two years. Home prices in Virginia have increased rapidly during the pandemic before reaching an all-time high median sale price of $448,400 in May 2022. Property prices have slowly been decreasing since but remain higher than their levels in the past year. The combination of high property prices and high-interest rates following the aggressive interest rate hiking policy initiated by the Federal Reserve Bank as a means to fight back against inflation has undoubtedly taken a toll on the national housing market, and Virginia is no exception.
The median sale price in Virginia as of September 2022 – the latest data available at the time of writing - stands at $394,400, 2.9% higher than the year before. As the cost of borrowing money has increased significantly over the past few months, some home hunters have found themselves priced out of the market and may have decided to put their home-buying project on the back burner until the mortgage rates decline to more reasonable rates. Therefore, it should come as no surprise that the volume of sales has declined significantly over the past year, with 10,232 transactions in September 2022, 22.1% lower than the same time last year.
Another indicator of the market slowdown is the rising number of days spent on the market at 26 days compared to 11 at the peak of the market in May 2022, but which remains lower than 30 median D.o.M. in September 2021. The housing market in Virginia remains firmly a sellers' market with a mere two months of housing supply on the market, unchanged since last year, and a far cry from the five to six months needed for a balanced market.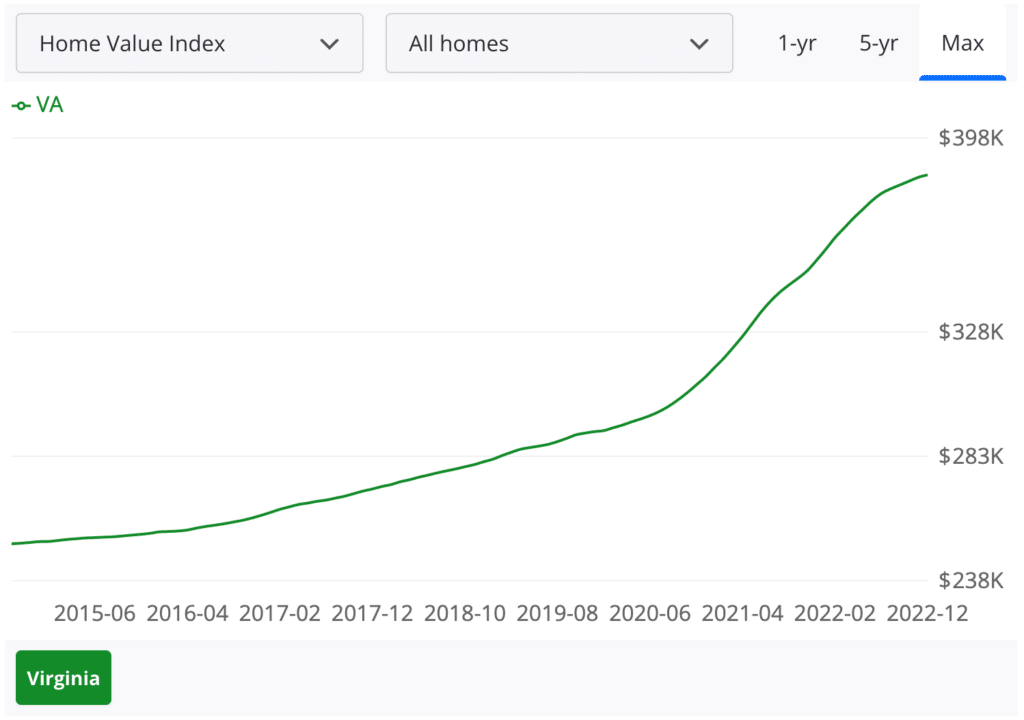 How Does the Virginia Housing Market Compare to the National Housing Market?
In March 2022, the Federal Reserve Bank initiated a hawkish monetary policy in order to fight back against inflation, which stood at a forty-year high. The Fed had proceeded to four consecutive 75 bps interest rate hikes as of November 2022 and has already hinted at more increases in the work until the inflation slows down to a targeted rate of 2%.
Mortgage rates have skyrocketed to hover around 7%, a number unseen since 2008 and more than twice higher than the average mortgage rate at the same time last year. Therefore, buyers are reconsidering their projects, affecting housing markets around the country and the Virginia housing market is no exception.
As the cost of borrowing money has increased significantly and the Virginia home prices continue to increase, although, at a much slower rate, the demand is bound to decrease, bringing property prices down along with it. Nevertheless, the lack of inventory, an issue that predates the pandemic, has been keeping property prices relatively high in many states around the country, including in Virginia, which benefits from its strong economy and advantageous geographic position.
Virginia Metro Areas with the Hottest Housing Markets
The Commonwealth of Virginia is composed of a mix of rural areas and densely populated regions, with 36% of the population living in the Baltimore-Washington metropolitan area in the northeast of the state. Here are the hottest housing markets in Virginia per volume:
Virginia Beach
Norfolk
Arlington
Virginia Beach
Virginia Beach is the most populated independent city in Virginia, with a population of 459,470 residents, and is part of the Hampton Roads metropolitan area along with Chesapeake, Hampton, Newport News, Norfolk, Portsmouth, and Suffolk, as well as other smaller cities, counties, and towns of Hampton Roads. It is known for having the longest pleasure beach in the world and features hundreds of hotels, motels, and restaurants along the waterfront. The Virginia Beach housing market is very competitive, with homes in Virginia Beach receiving three offers on average. The median sale price seats at $330,000, 6.5% higher than last year, and homes sell within 25 days, slightly longer than in September 2021 at 21 days. 42.5% of homes sell above the asking price, and many receive multiple offers with waived contingencies.
Norfolk
Norfolk is the third-most populous city in Virginia after neighboring Virginia Beach and Chesapeake, with a population of 238,005. It boasts a long military tradition as it is home to the most extensive naval base in the world, Naval Station Norfolk, along with one of NATO's two Strategic Command headquarters. The Norfolk housing market is very competitive, with listed properties receiving three offers on average. 38% of homes sell above the listed price, reaching a median sale price of $275,000, 5.3% more than the previous year.
Arlington
Arlington County is considered to be the second-largest "principal city" of the Washington metropolitan area. However, under Virginia state law, Arlington County does not have the legal designation of an independent city or incorporated town. With a population estimated at 238,643, it would be the third most populous city in Virginia if it were considered one. Arlington is home to the Pentagon and will soon host the co-headquarters of Amazon and the global headquarters of aerospace manufacturing and defense industry giants Boeing and Raytheon Technologies. The Arlington housing market is competitive, with homes receiving, on average, two offers per listing and 17.5% selling above the asking price. The median sale price seats at $570,000, which is 12.2% lower than the year prior.
Higher Mortgage Rates Could Slow Down Price Growth in Virginia
According to data collected in September 2022, the Virginia housing market remains competitive, although home prices in Virginia are growing at a slower pace than in previous months. Higher priced markets are already showing signs of the average home price going down under the pressure of high property prices combined with high mortgage rates.
The higher mortgage rates translate to the average mortgage in November 2022 being approximately $1000 more expensive than it was last year, affecting home hunters' buying power. Therefore, homebuyers may consider putting their plans on hold until mortgage rates become once again more affordable. As the demand declines, house prices in Virginia will likely follow a similar trend.
Key Market Stats for the Virginia Housing Market
As of the latest compiled housing report with data through Sept 2022.
Median home sale price: $394,900 – 2.9% more than in September 2021
Sale volume: 10,232 – 22.1% less than in September 2021
Months supply of inventory: 2 – compared to 1 in September 2021
Mortgage rates as of November 10th, 2022: 7.08%
Virginia Historic Price Changes and Affordability
The Virginia housing market has been going strong and steady for the past couple of years. This growth accelerated following the Covid-19 pandemic, as urban dwellers who benefited from remote work accommodations moved away from city centers to more suburban areas, combining more affordable real estate prices and spacious accommodations, but some residents in the more expensive parts of the state, particularly along the border with Washington DC, also packed their bags to move to more affordable states.
Between September 2019 and September 2022, the median for Virginia house prices increased from $320,400 to $394,900, with a market peak of $448,400 in June 2022, representing a 23.25% appreciation over the course of 36 months, a relatively more moderate pace than the national average. However, as mortgage interest rates continue their upward trajectory, more expensive metropolitan areas will likely be hit the hardest as potential buyers struggle to afford the rising cost of borrowing money along with the hefty price tag. Unfortunately, salaries have not improved as fast as property prices, and inflation is taking a toll on prospective buyers' buying power, leading, in all likelihood, to property prices slowing down their growth significantly compared to the past couple of years, and declining in some areas.
Key Takeaways
Property prices in Virginia are higher than they were at the same time last year, but we are observing a slight deceleration in Virginia home prices following the increased interest rates.

Some Virginia housing markets, especially in higher-priced areas, have started to decline.

The Virginia housing market remains competitive due to the limited inventory and is, at the time of writing, a sellers' market despite Virginia home prices decelerating and longer time spent on the market.
2023 Virginia Housing Market FAQ