Kansas Housing Market 2023 Report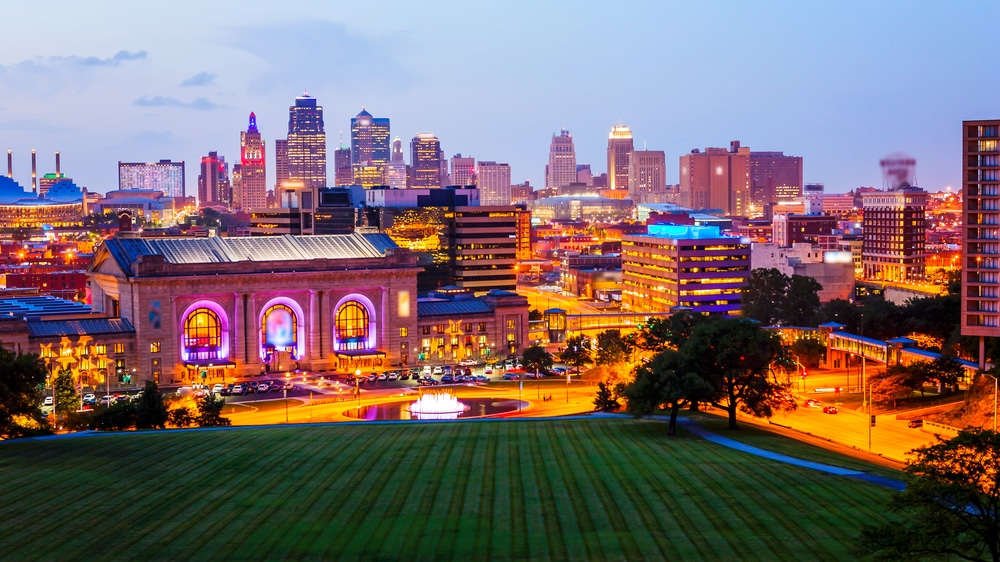 What is the Kansas Housing Market Like?
Like most of the country, Kansas house prices have skyrocketed in the past two years but appear to be correcting in response to the Federal Reserve Bank's aggressive interest hike policy.
According to September 2022 data, Kansas housing prices climbed up 15.3% in the past year, reaching a median price of $261,900. The statewide average sale price in September was $283,509, representing an 8.2% increase compared to last year.
Nevertheless, the successive interest rate increases initiated in March combined with high property prices are showing signs of affecting the market. Home sales were down 7.9% in volume in year-over-year comparisons. Besides, properties stay on the market for a median of 20 days compared to 18 days last year, indicating that the available inventory is still struggling to keep up with the demand despite the slight increase.
The number of active listings is also climbing, and there are 9.7% more available properties in September 2022 than there were in September 2021. Nevertheless, according to the Kansas Association of REALTORS®, the Sunflower State suffers from a severe lack of inventory: "While demand has slowed in recent months, tight inventories remain a problem," said KAR president Andrew Mall with Link Realty in Prairie Village. "At the end of September, there were half as many homes available for sale as there were at the same time back in 2019."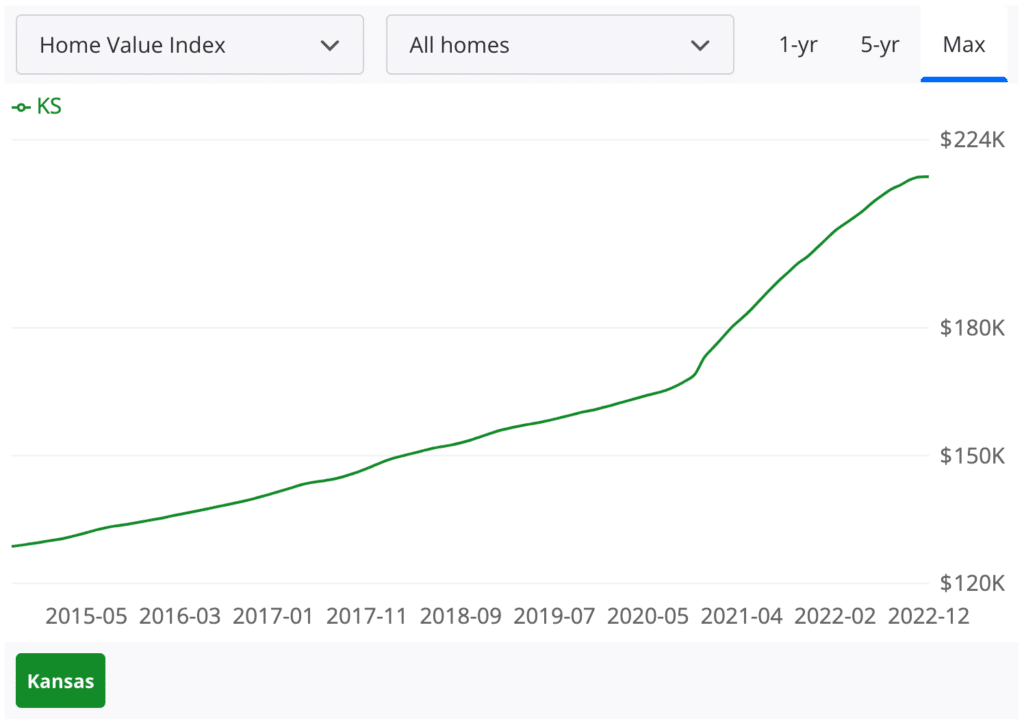 How Does the Kansas Housing Market Compare to the National Housing Market?
The Kansas housing market is following similar trends to the ones we have observed across the country. The Federal Reserve Bank's hawkish policy, which has brought interest rates to levels unseen since 2008, has contributed to slowing down the demand. Home sales in Kansas fell by 16.1% in September 2022 compared to the same period last year. It is slower than the national pace, with sales falling 23.8% over the past year.
Nevertheless, the Kansas housing market is suffering from a significant lack of inventory which is keeping property prices high. Home prices are continuing to increase at a level similar to the national level, although at a slower pace than previously observed. With the threat of a recession on the horizon, builders are hesitant to start new projects, owing to the increasing price of building materials and land, as well as the lack of a qualified workforce. Therefore, the lack of inventory is likely to continue in the near- to mid-term.
Kansas Metro Areas with the Hottest Housing Market
Kansas is a primarily rural state. However, some of the local metropolitan areas stand out as, like other cities in the Midwest, property prices have remained relatively affordable compared to major coastal cities. As remote work spread out considerably following the COVID-19 pandemic, Kansas has attracted a significant number of telecommuters attracted to cheap Kansas housing prices, who brought in a higher buying power and contributed to increasing the demand for housing.
Here are the top 3 housing markets in Kansas.
Wichita
Wichita, also known as the "Air Capital of the World" due to being the cradle of 35% of all U.S. manufactured general aviation aircraft, has become a hot real estate market. With a population of 397,532, it is the largest city in the state. As of September 2022 data, there were 1,328 homes for sale in the city, ranging from $5.3K to $3.5M, with a median listing price of $215,000. The median listing home price has increased by 13.8% in year-over-year comparisons and remains a buyers' market. However, the median number of days on the market has grown significantly from its lowest levels in the summer of 2022 to reach 104 DoM in September.
Kansas City
Located on the eastern edge of Kansas, at the border with Missouri – part of the city actually belongs to the neighboring state – Kansas City is the third largest city in the state and is home to 156,607 residents. There were There are 563 homes for sale as of September 2022, ranging from $1 to $10M, with a median listing price of $187,300, accusing a 7% increase in year-over-year comparisons. The housing market remains highly competitive, with homes in Kansas City receiving two offers on average and selling in around 21 days.
Topeka
With a population of 126,587, Topeka is the capital city of the state of Kansas. Topeka's housing market is very competitive, with houses going pending 27 days on average after listing. Multiple offer situations are common, and the average homes sell for about 2% above the list price. As of September 2022, Topeka home prices were up 7.1% compared to last year, selling for a median price of $150,000, with listing prices ranging from $10,000 to 3.7 million dollars.
Kansas Housing Market Predictions for 2023
The Kansas housing market is expected to follow national trends, with the skyrocketing property prices we have witnessed in the past two years finally slowing down to a more reasonable pace, allowing would-be buyers priced out of the current real estate market to take a second look. Nevertheless, the inventory for available listings remains limited due both to the housing shortage and the understandable reluctance of current property owners to put their houses on the market without the guarantee of finding a new home with an affordable listing price. Therefore, Kansas house prices are expected to keep growing, albeit at a much more reasonable pace. The 2023 Kansas Housing Markets Forecast says Kansas home values will end 2022 up 12.3% and then rise by another 5.4% next year.
Higher Mortgage Rates Could Slow Down Price Growth in Kansas.
The sharp increase in interest rates is a major concern nationwide, and Kansas is no exception, although the average Kansas home prices remain significantly lower than in other parts of the county. The cost of borrowing money has risen dramatically since March 2022, climbing to levels unseen since 2008 at above 7% in October 2022. The Fed is poised to announce more interest rate increases at upcoming meetings. Although property prices may stabilize or decline slightly, the average monthly mortgage costs are likely to keep rising, keeping homeownership out of reach for some Kansas house hunters.
Key Market Stats for the Kansas Housing Market
As of September 2022 available data, here are some of the key Kansas housing market stats:
Median sale price: 261,900 – a 15.3% increase compared to 2021.
Existing home sales: 2,857 – a 7.9% decrease compared to 2021.
Median days on the market: 20 – compared to 18 in 2021.
Months of supply - 2 – unchanged since 2021.
Mortgage rates as of October 14th, 2022: 6.94%
Kansas Historic Price Changes and Affordability
Kansas house prices have increased significantly over the past three years despite a noticeable dip in the fall of 2021. Between September 2019 and September 2022, the median for Kansas home prices went from $198,700 to $261,900, marking a 31.80% increase in 36 months, with a peak of $280,800 in May 2022.
Kansas housing prices are expected to keep declining in the coming months as homebuyers must contend with the sharp increase in interest rates, which currently stand twice higher than a year prior. However, the Kansas housing market remains relatively affordable compared to the national average and may continue to attract remote workers looking to cut down on living costs.
Key Takeaways
Kansas home prices have increased rapidly in the past two years but seem to be slowing down as the interest rate increase has made the cost of obtaining a mortgage unsustainable.

Kansas housing prices remain relatively affordable compared to the rest of the United States. Still, the influx of remote workers from more expensive areas of the country has contributed to the increase.

Kansas property prices are expected to keep improving but at a much slower pace in the coming year.
2023 Kansas Housing Market FAQ