Nebraska Housing Market 2023 Report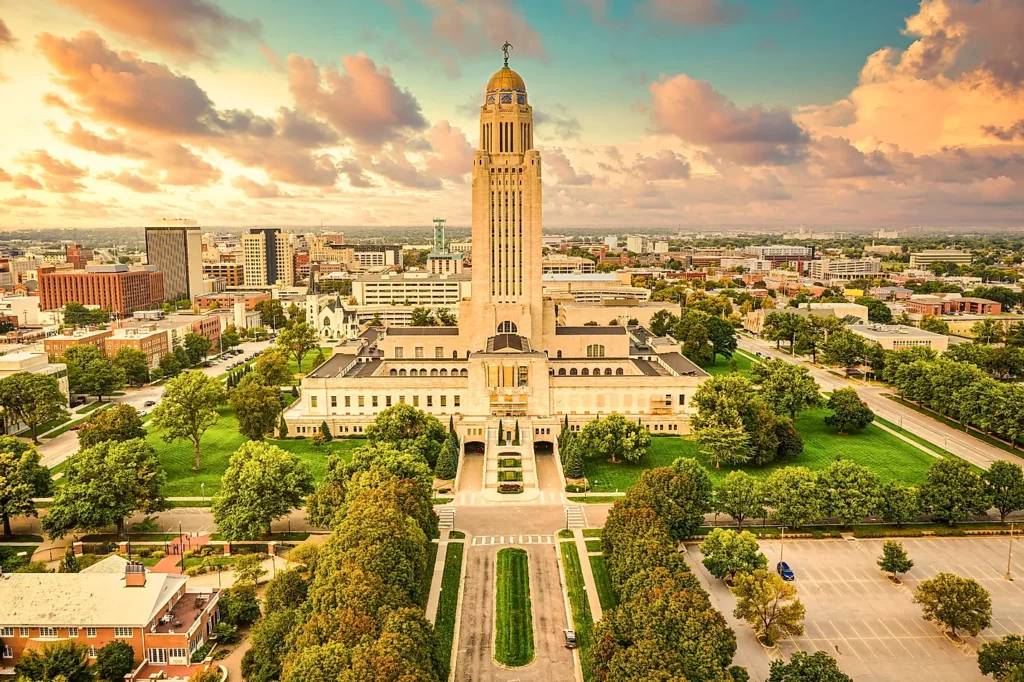 What is the Nebraska Housing Market Like?
The Nebraska housing market suffered the same sharp increase in property prices in the past two years as we witnessed in most of the country. However, the real estate market is showing signs of correction following the aggressive monetary policy initiated by the Federal Reserve Bank since March 2022.
As of data collected for September 2022, Nebraska house prices reached a median selling price of $274,400, representing a 10.1% increase compared to September 2021 and marking a slight decline since their peak in July 2022 at $297,000. Signs seem to point that the Fed's hawkish interest rate hiking policy is working.
The demand has also decreased as would-be homebuyers must contend with the highest price of borrowing money, which may lead to their monthly mortgage payments being more expensive despite the slightly lower property prices. There were 1,726 homes sold in September this year, down from 1,852 homes sold in September last year, which represents a 9.49% decrease in the year-over-year comparison.
Properties are still flying off the market almost as soon as they are listed, indicating that inventory is still struggling to keep us with the demand. However, there is a slight increase in days on the market at 13 days compared to 8 days in September 2021.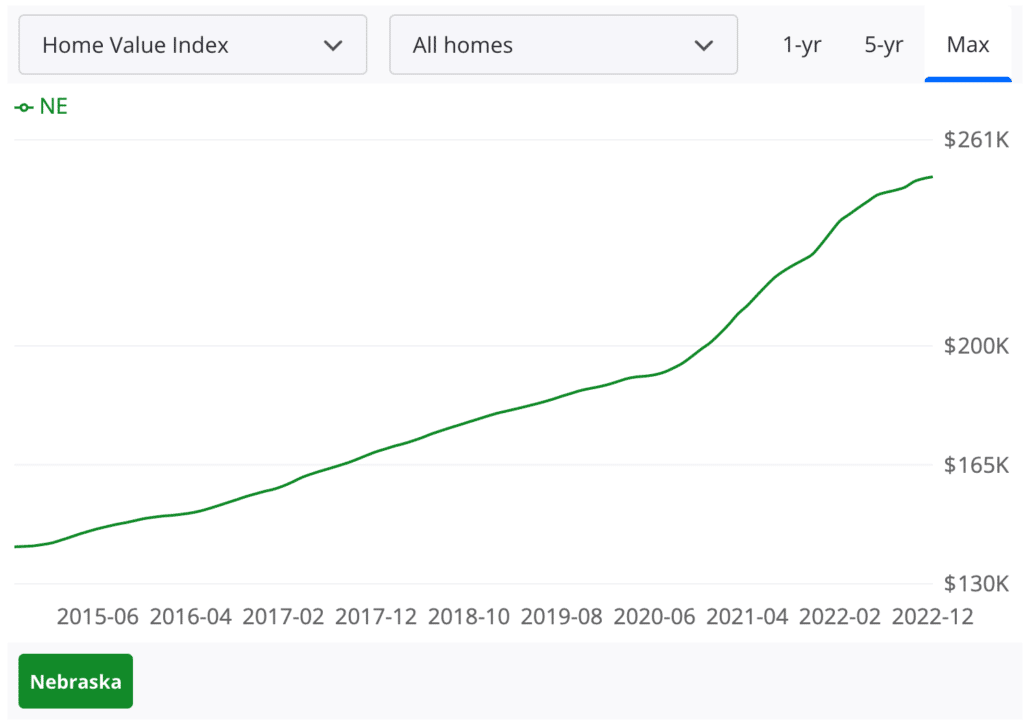 How Does the Nebraska Housing Market Compare to the National Housing Market?
The Nebraska housing market is following similar trends as the ones observed in most of the country. The aggressive interest rate hike policies have contributed to a sharp increase in monthly mortgage payments, especially since property prices remain high.
As of November 2022, interest rates are hovering around 7%, more than twice higher than last year when interest rates were sitting near historic lows and reaching levels unseen since 2008. With the threat of a recession looming on the horizon, would-be homebuyers may think twice before starting their house hunt.
However, like many other places around the country, Nebraska suffers from a severe lack of inventory that predates the pandemic but has been exacerbated by increased demand. Nebraska property prices remain significantly lower than many other states and can attract out-of-state remote workers lured by the relative affordability of this centrally located state. "We've had such a shortage for quite some time that, even a few months ago, things were just selling as soon as they came on the market and for huge gains over the listing price. Where now, it's slowed enough that at least a buyer feels that they can go out and possibly get a house and not pay 20 or 30 or 40 thousand dollars over asking price," said Connie Burleigh, president of the Nebraska Realtors Association.
Nebraska Metro Areas with the Hottest Housing Market
Despite a sharp increase in listing prices, Nebraska housing prices remain more affordable than most of the country, particularly in metropolitan areas in coastal regions. Nebraska is primarily a rural state. However, here are some of the hottest real estate markets in Nebraska:
Bellevue
Grand Island
Lincoln
Omaha
Bellevue
Located in Sarpy County, Bellevue is home to 64,176 residents, making it the third-largest city in Nebraska. The housing market in Bellevue is very competitive, with multiple offer situations being common. 29.5% of properties sold above the asking price in September 2022. The median sale price was $243,500, representing a 10.7% increase compared to September 2021, and properties went pending or sold within nine days of listing. Los Angeles homebuyers searched to move into Bellevue more than any other metropolitan area in the country.
Grand Island
The Grand Island metropolitan area has an official population of 83,472 residents and is the county seat of Hill County. Grand Island is one of the largest cities in Nebraska and also one of the most affordable, which makes it a desirable place alternative to pricier areas. The median list price has reached $290,000, 15% higher than a year ago, and were ranging from $47,500 to $5.5 million dollars in listing price.
Lincoln
Lincoln is the capital of the U.S. state of Nebraska and has a population of 292,657 in 2021, making it the second-most populous city in Nebraska. Lincoln's real estate market is very competitive, receiving two offers on average and selling in around 11 days. 38,9% of houses sold above the asking price for a median sale price of $264,000, representing a 3.5% increase above September 2021 prices.
Omaha
Omaha is the largest city in Nebraska, with a population of 486,051. It is a particularly sought-after relocation destination, leading to a very hot housing market. Homes in Omaha receive four offers on average and sell in around eight days. The median sale price reached $264,050 in September 2022, 14.8% more than a year prior, and 37.7% of homes sold above the asking price.
Nebraska Housing Market Predictions for 2023
Like other states across the nation, the Nebraska housing market is expected to feel the effects of the aggressive interest rate hike policy initiated by the Federal Reserve Bank. However, Nebraska benefits from a significant advantage: despite the recent increases in median property prices, real estate values remain relatively affordable. As remote workers from more expensive areas such as California or East Coast cities contemplate cutting down on their living expenses to brace themselves for a recession, Nebraska cities – notably Lincoln, Omaha, and Bellevue – could be strong contenders.
Higher Mortgage Rates Could Slow Down the Price Growth in Nebraska
The lack of inventory and influx of telecommuters from out of state keep Nebraska home prices high. Nevertheless, it is highly likely that the Nebraska housing market will feel the effects of higher mortgage rates. As of October 2022, the Federal Reserve Bank had initiated five consecutive interest rate increases, four of them of 75 bps, with likely more in the works. As interest rates topped 7%, a number unseen since 2008, their buying power has significantly declined, and a decrease in Nebraska housing prices appears inevitable.
Key Market Stats for the Nebraska Housing Market
According to September 2022 data, some of the key market stats for the Nebraska housing market appear as follows:
Median home price: $274,400 – a 10.1% Y.o.Y. increase.
Home sales: 1,726 – 9.49% less than a year ago.
Months supply of inventory: 1 – up from 0 in September 2021.
Mortgage rates as of November 3rd,2022: 6.95%.
Nebraska Historic Price Changes and Affordability
The Nebraska housing market has been consistently increasing in value in the past three years, even before the sharp property value increases we witnessed during the pandemic. The median home price has increased from $204,800 in September 2019 to $274,400 in September 2022, with a peak of $287,200 in July 2022, representing a 33.98% increase in 36 months.
Nebraska home prices remain high due to the lack of inventory and the influx of buyers from other states with increased buying power. However, such high property prices combined with high-interest rates are not a sustainable combination in the long term as local salaries do not keep up.
Key Takeaways
Nebraska house prices have significantly increased since the beginning of the pandemic, although at a slower pace than in other parts of the country owing to the already high property prices

The housing market in Washington is starting to correct itself after a peak in late spring 2022, with fewer sales and a declining median sale price

The inventory remains limited, keeping property prices higher than average. Despise an increase in monthly supply, the housing market in Washington remains a seller's market.
2023 Nebraska Housing Market FAQ